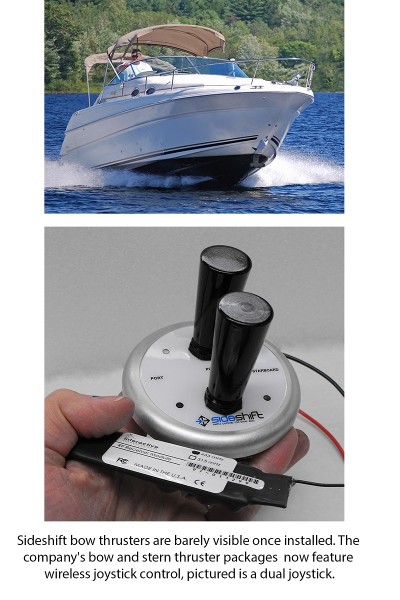 Long electrical wire runs can be a challenge on any DIY project. To significantly reduce installation time, Sideshift externally-mounted bow and stern thrusters now come standard with wireless joystick controls. With no large through-hulls to drill, nor long wire runs to string, Sideshift offers the easiest installation on the market. This wireless upgrade comes at no additional cost.
The Sideshift range of bow and stern thrusters accommodate boats from 20′-50′. They provide unparalleled control for safer docking and close maneuvers. The included wireless joystick control offers simple plug and play for the helm to motor controller connection, shaving hours off traditional installation time. This technology also works with Sideshift's dual joystick controller, for those using both bow and stern thrusters.
Owners who wish to transfer their older Sideshift model to a new vessel can purchase a wireless receiver/transmitter upgrade kit for just $395. The new Sideshift packages come complete with bow or stern thruster, motor controller, wireless transmitter and receiver, single joystick, and all needed hardware. They retain their economical pricing, starting at $3,495.
Image courtesy Sideshift