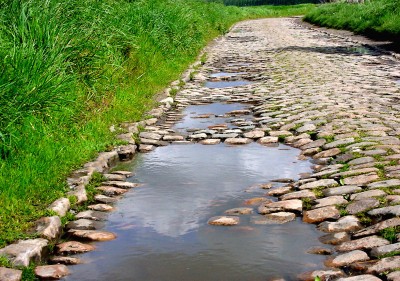 The Paris-Roubaix is a well-known, one-day cycling race that was held last Sunday in France. With the nickname of "The Hell of the North" and a route that runs along rough terrain characterized by cobblestones, it's fairly easy to understand what a challenge this race truly is.
Despite strict anti-doping rules, there are still some cyclists who take the risk in order to hopefully come out on top. During the event, there was a crash about halfway through the 160-mile race. Mike Brampton, an amateur cyclist, was on the sidelines taking photographs at the time. While the riders were recovering and preparing to set off again, Brampton and others at the scene noticed a small vial of pills falling to the ground from one of the rider's pockets.
"Basically the crash happened and then they all got up and the soigneur [cyclist assistant] pushed the rider [in question] away," he told The Telegraph. "I'd already spotted the vial, as had others. It was actually pointed out to the soigneur who sort of shrugged his shoulders as if to say 'nothing to do with me.'"
He said the vial had the word "TEST" written on it as well as a barcode, and Brampton decided to take it back to the UK with him. He tweeted about the vial through the Thames Medical Ltd. account, for which he is the managing director, and asked the Twitter community what he should do with it.
UCI President Brian Cookson replied on Wednesday, saying, "W'out jumping to conclusions, please pass this to CADF [Cycling Anti-Doping Foundation], AFLD [French anti-doping agency], UKAD or police. Tks." The UCI (International Cycling Union) is the world governing body for cycling.
Brampton had already contacted UK Anti-Doping about the vial. UKAD expects to receive the vial today, at which time they can begin tests to determine if it contains performance-enhancing drugs. Brampton would not reveal exactly where the crash took place or who was involved, but said he knew exactly what rider the vial belonged to—information that he has passed along to the UKAD.
"It will absolutely be possible to pinpoint who the vial belongs to," he continued. "I have 34 in-sequence photographs from about 15 feet away, pin sharp. In one of them you can actually see the vial falling from the rider's pocket."
Because the pills inside the vial may very well not be performance-enhancing drugs, the name of the rider has not yet been released.
Image from F Lamiot on Wikimedia Commons