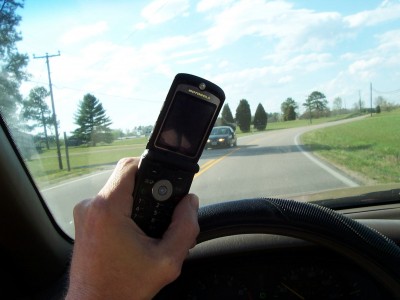 An Australian woman who was texting while driving hit a cyclist near Koroit, a rural town near Victoria, last September. The driver, 21-year-old Kimberly Davis, was recently fined $4,500 and lost her license for nine months after records showed she sent 44 texts to seven different people during the time leading up to the accident.
The cyclist was left with a broken big toe, lacerations to his head and body, and a spinal fracture that required surgery. But Davis didn't seem too concerned.
"I just don't care because I've already been through a lot of bullshit and my car is like pretty expensive and now I have to fix it," she told a police officer, according to The Standard. "I'm kind of pissed off that the cyclist has hit the side of my car. I don't agree that people texting and driving could hit a cyclist. I wasn't on my phone when I hit the cyclist."
Immediately after coming into contact with the cyclist, she parked 100 meters (328 feet) past him on the side of the road. While she did call for help, she did not make any attempts to help the cyclist. It was early evening, so sight played a factor, but the cyclist had reflector lights on the front and back of his bike.
Davis is a P-Plate driver, which indicates the driver only has a provisional license.
Image from Edbrown05 on Wikimedia Commons