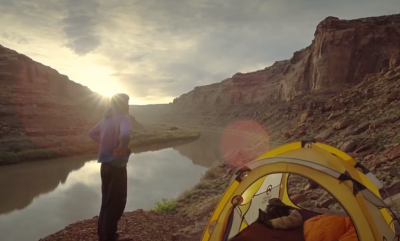 The 5Point Film Festival will be held next weekend in Colorado, featuring films that focus on the outdoor action sports world. But for those who don't live close enough to attend the jam-packed weekend event, a tour will be held as well with two premiers in the United States, in Portland and Boston, and seven held internationally.
More than 40 films are being showcased at the festival, which will be held from April 24-27 in Carbondale, Colorado. The event begins with a Kick Off Party & Van Life Rally from 5-7 p.m., with the first film session immediately following until 10 p.m. A number of the short films are shown each day, along with many other events. The festival wraps up with its final film session from 5:30-7 p.m. on Sunday, which includes awarding the best films as well as appearances from filmmakers and special guests. Check out the full schedule.
The mission of 5Point Film is, "To inspire adventure of all kinds, to connect generations through shared experience and respect, to engage passion with a conscience, and to educate through film." In order to achieve this mission, the organization has developed "five points" that each film must possess in order to be included.
Respect: For each other, for the environment, for the experience and for the knowledge we inherit from those who inspire and teach us.
Commitment: To overcome fear and give ourselves completely to the challenge at hand while leading a vital existence and never allowing ourselves to become complacent.
Humility: To assume the courage and the discipline to listen to our intuition and not our egos, always mindful of our place in the natural order.
Purpose: To muster the motivation and conviction necessary to pursue our highest aspirations in the face of adversity.
Balance: To maintain our focus and energy in life, in nature, and on the journeys we undertake while things we cannot control shift around us.
"The 5Point Film Festival is a celebration of the best and brightest mountain filmmakers and their cinematic triumphs. The beautiful mountain setting in Carbondale, Colorado adds power and authenticity to the festival's inspiring films and speakers," Casey Sheahan, former Patagonia CEO and current Senior Advisor of Backbone Media, said on the 5Point Film website.
Check out the 5Point Film Festival trailer below and visit the website to buy tickets.
Image courtesy of 5Point Film Festival