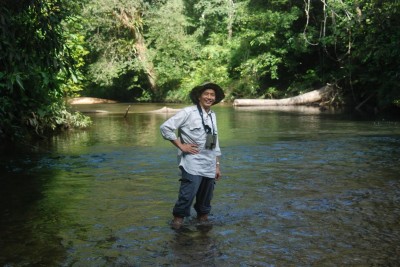 Melvin Gumal, Director of the WCS-Malaysia Programme since 2003, has been named one of eight finalists for this year's Whitley Awards. This prestigious international prize honors exceptional individuals working in grassroots nature conservation in the world's developing countries, and who often face humanitarian, environmental and political challenges in the projects they undertake. The prize, awarded by The Whitley Fund for Nature (@WhitleyAwards) is called the Green Oscars.
Gumal was selected from a field of more than 170 applicants from around the world.
HRH The Princess Royal will announce the final results at a special evening ceremony on Thursday, May 8, at the Royal Geographical Society in London.
Gumal (@gumal) has been leading a team of Malaysian conservationists on: orang-utan conservation in the Batang Ai region; elephant and tiger conservation in the Endau-Rompin region of Peninsular Malaysia; and a host of other smaller conservation projects.
Prior to working with WCS, Melvin headed the Conservation Education and Interpretation Unit of the Forest Department Sarawak's National Parks and Wildlife Office for 15 years and helped co-author the Wildlife Master Plan for Sarawak. As part of this unit, he worked closely with rural communities living in and around protected areas with the aim of increasing their involvement in and support of conservation of the protected areas and wildlife.
In addition to Gumal, the other finalists are:
Shivani Bhalla – Warrior Watch: Enabling the coexistence of people and lions in Northern Kenya
Monica Gonzalez – Community conservation of the long-wattled umbrellabird and its disappearing habitat in Ecuador
Luis Torres – Building a national movement to save Cuba's amazing plant life
Fitryanti Pakiding – Uniting coastal communities to secure the Pacific's last stronghold for nesting leatherback turtles
Marites Gatan Balbas – Taking action to save the world's rarest crocodile
Stoycho Stoychev – The Imperial eagle as a flagship for conserving the wild grasslands of South-eastern Bulgaria
Paula Kahumbu – Hands off our elephants: Delivering African leadership to address Kenya's poaching crisis
Media are invited to attend a press briefing on Thursday 8 May to learn more about the Whitley Awards and interview the finalists who will be in London for the annual Awards Ceremony.
Image courtesy of WCS