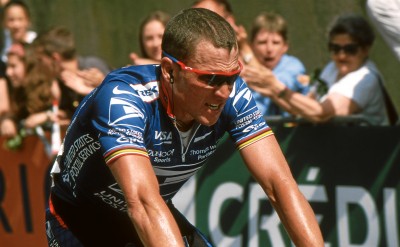 In November, former professional cyclist Lance Armstrong named those who assisted in his years of doping as well as revealed additional details about the scandal while under oath. The information was obtained from USA TODAY Sports on Wednesday.
In court, Armstrong was asked to name who provided him with performance-enhancing drugs (PEDs). He said trainer Pepi Marti, Dr. Pedro Celaya, Dr. Luis Garcia del Moral, and Dr. Michele Ferrari had done so. When asked more specifically about who delivered drugs to him he used in races where he cheated, more names were revealed. He said masseuse Emma O'Reilly, bike mechanic Julien de Vriese, and motorbike courier Philippe Maire all assisted in delivering the drugs.
Almost all of those named have denied involvement or knowledge of Armstrong's doping at one time or another. Armstrong said team manager Johan Bruyneel was also aware. "Johan Bruyneel participated in or assisted with Armstrong's use of PEDs, and knew of that use through their conversations and acts," Armstrong stated.
The cyclist said he paid for the drugs. He said it's possible others paid for the drugs on occasion, but said he could not recall at the time the statement was given.
"Armstrong would typically supervise his own use of PEDs, but on certain occasions, the use of PEDs was supervised by Dr. Celaya, Dr. del Moral, or Dr. Ferrari," the statement continued.
While he said he used blood booster EOP at the Tour de France as far back as 1995, he denied cheating during 2009 and 2010, the first of which was his comeback year. While he revealed the truth of the doping scandal in a televised interview with Oprah Winfrey in 2013, it was during a lawsuit filed against him by Acceptance Insurance that prompted him to reveal all of the details of those involved last fall in a written statement. Acceptance Insurance filed the lawsuit in order to recover the $3 million in bonuses that was paid to Armstrong for winning the Tour de France from 1999 through 2001.
A day prior to a scheduled deposition in the case, Armstrong agreed to a settlement, which canceled the deposition.
Image courtesy of de:Benutzer:Hase on Wikimedia Commons