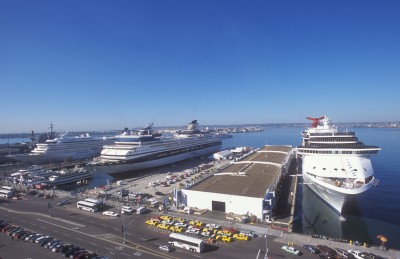 Last week, a family of four that was sailing around the world used their satellite phone to call for help after their sailboat stalled and their baby became ill. At the time of calling for help, they were 900 miles off the coast of Mexico. While the Navy was able to rescue the family and the child is now in stable condition, the story has spurred many conversations about whether or not they should have been sailing that distance with two small children in tow.
California residents Eric and Charlotte Kaufman were sailing with their three-year-old daughter, Cora, and one-year-old daughter, Lyra, when the youngest developed a fever and rash covering almost her entire body. In addition to Lyra's illness, their 36-foot sailboat lost both steering and communication abilities.
"We understand there are those who question our decision to sail with our family, but please know that this is how our family has lived for seven years, and when we departed on this journey more than a year ago, we were then and remain today confident that we prepared as well as any sailing crew could," the couple said in a shared statement. "The ocean is one of the greatest forces of nature, and it always has the potential to overcome those who live on or near it. We are proud of our choices and our preparation."
Four members of the California Air National Guard reached the boat on Thursday evening, at which time Lyra was immediately tended to, responding well to new medication. The family boarded the USS Vandegrift on Sunday morning, leaving behind their inoperable sailboat. Coast Guard Petty Officer 2nd Class Barry Bena told the Associated Press they decided to sink the family's boat, as it was taking on water. The warship carrying the family arrived in San Diego earlier today.
A number of people have shared criticisms about the Kaufmans' parenting.
"The rescuers have to risk their own lives to help people who do these kinds of stupid things on purpose, and I don't think that's right," Margaret Dilloway, a San Diego novelist who has three children, told the AP. She added that she thought the family should have to pay for some of the rescue costs.
But the fact that Eric Kaufman is a Coast Guard-licensed captain helps to support the family's argument that they were prepared while on the water. Others expressed opinions that living at sea is a wonderful learning experience for a child, as is shared by USA Today writer Jim Henderson, whose family has been sailing for as long as he can remember.
Regardless of the continuing argument, the family expressed deep thanks to all involved in the rescue.
Image from Portsd on Wikimedia Commons