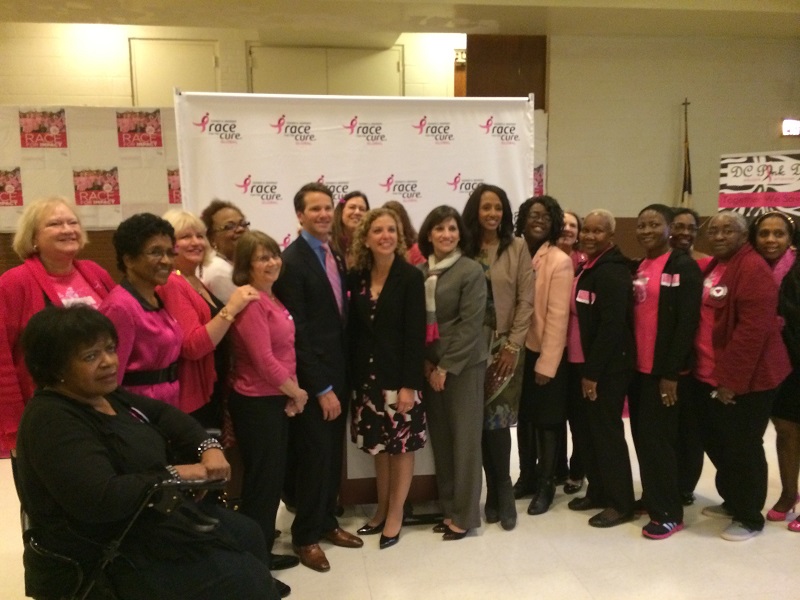 Susan G. Komen today announced more than $1.89 million in new grants to seven breast cancer organizations serving the National Capital Region. The announcement came during the Susan G. Komen Global Race for the Cure Media Kickoff Event and Survivor Roundtable marking the official start of activities leading up to the 25th Global Race for the Cure® May 10 on the National Mall.
Komen President and CEO Dr. Judy Salerno told the group today that Komen's grants are needed more than ever.
"It is unbelievable that Washington, D.C. – arguably the most important city in the world – has the highest death rate from breast cancer in our country," Dr. Salerno said. "Susan G. Komen's goal is to change that statistic, both through research and on the ground, by funding programs that ensure everyone has the knowledge and the resources to battle breast cancer regardless of their economic circumstances."
Currently, the mortality rate from breast cancer in D.C. is 40 percent higher than the national average. In addition, breast cancer incidence is 20 percent above national averages. Washington has the highest rate of late-stage diagnosis, when breast cancer is most difficult to treat.
In addition to the new grants announcement, Dr. Salerno announced that WWE Superstar, John Cena, would serve as Grand Marshall for the Global Race, which this year celebrates its 25th anniversary in Washington, D.C. WWE and John Cena have been partners with Komen in the fight against breast cancer since 2012, when they launched the successful "Rise Above Cancer" campaign.
"It is a privilege to serve as Grand Marshall of Komen's Global Race and help raise awareness and funds for the fight against breast cancer," said John Cena. "We are committed to using WWE's global platforms to further the great work that Komen does every day to help turn breast cancer patients into breast cancer survivors."
Congresswoman Debbie Wasserman Schultz (D-Fla.) and Congressman Aaron Schock (R-Ill.) were also in attendance, giving remarks about why they have once again signed on to serve as the 2014 Global Race Honorary Co-Chairs. Congressman Schock's district includes the city of Peoria where Susan G. Komen® Founder Nancy Brinker and her sister, Suzy, grew up. Wasserman Schultz is both a key leader in the fight against breast cancer as well as a survivor.
Also speaking at the Kickoff Event was Malaak Compton-Rock. Compton-Rock has worked with Komen since 2008, recently being a voice alongside the breast cancer organization in bringing attention to Triple Negative Breast Cancer, a particularly deadly form of the disease that disproportionately affects young, black women.
The afternoon event was co-hosted by Komen grantee, The DC Pink Divas. The Pink Divas are a program of the Capital City Area Health Education Center. They were formed to address the reasons behind disparities in breast cancer outcomes, with special programs targeting women in D.C.'s Wards 7 & 8 and in Prince George's County.
Since its inception in 1990, funds raised from the Global Race for the Cure® have provided more than $35 million for over 300 community grants to local programs in the National Capital Region, aimed at low-income, minority and uninsured women in areas where breast cancer rates are the highest. Currently, Komen has 22 active grants for community education and treatment centers helping to provide breast health services, treatment assistance and patient support services in the National Capital Region – which includes northern Virginia, the District and Prince George's and Montgomery counties in Maryland.
Breast cancer is the most common cancer in women worldwide. In the United States, one case of breast cancer is diagnosed every two minutes, and one woman will die of breast cancer every 13 minutes. A lack of health insurance and living in lower-income areas are both associated with lower survival rates among breast cancer patients, as well as the presence of other illnesses, unequal access to care and disparities in treatment.
There are multiple ways to participate in and fundraise for the Global Race, including the 5K or one-mile walk/run. Children ages five to 12 can register for Kids for the Cure®, a special kid-friendly race. To learn more, visit www.GlobalRacefortheCure.org. Share content and engage online with the official event hashtag#KomenGlobalRace, @SusanGKomen and/or www.facebook.com/GlobalRace.
Image courtesy Susan G. Komen