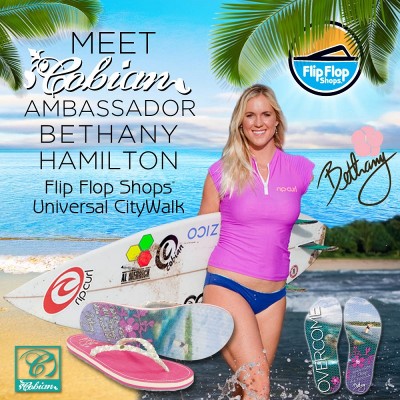 Flip Flop Shops invites fans to come meet professional "soul surfer" and Cobian Ambassador Bethany Hamilton at its Universal CityWalk shop on Saturday, March 29, 2014 from 12 noon – 3 p.m. for an autograph signing event.
Bethany will be celebrating the retail launch of her new Cobian Limited Edition Signature Sandal, available for purchase at the event. A portion of the proceeds will go towards her Friends of Bethany foundation, which supports shark attack survivors and traumatic amputees worldwide.
Bethany will be on hand to sign posters and get photos with hundreds of fans. Guests are encouraged to arrive early for the best possible chance to meet Bethany, as large crowds are expected.
Who:
Bethany Hamilton has become a source of inspiration to millions through her story of determination, faith and hope. During a surf session on Halloween morning 2003, Bethany was attacked by a 14-foot tiger shark, which bit off her left arm and seemed to end her career as a rising surf star. Miraculously, just one month after the attack, Bethany returned to the water and just over a year later won her first National title. In 2007, Bethany realized her dream of surfing professionally and since then her story has been told in an autobiography and in the 2011 film, Soul Surfer.
Cost: FREE and open to the public
Where: Flip Flop Shops at Universal CityWalk, 1000 Universal City Plaza, Universal City
When: Saturday, March 29, 2014 from 12 noon – 3 p.m.
For more information visit www.flipflopshops.com, call the Flip Flop Shops Universal CityWalk at (818) 763-7253 or visit www.facebook.com/FFSCityWalk.
Image courtesy Flip Flop Shops