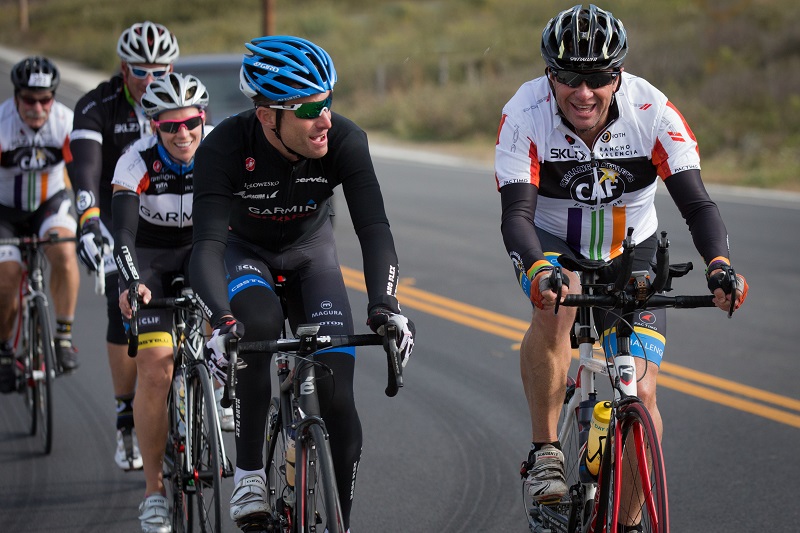 The Challenged Athletes Foundation (CAF), a world leader in helping individuals with physical challenges get involved and stay involved in sports, announced today that retired professional cyclist Christian Vande Velde will serve as chairman of the organization's 9th Annual Mazda Foundation Million Dollar Challenge (MDC). Vande Velde was a 2013 participant in the 7-day, 620-mile bike ride cycling from San Francisco to San Diego. The event departs San Francisco on Friday, Oct. 10, and is limited exclusively to 100 participants and raises more than $1 million to support physically challenged athletes.
"I've certainly had the opportunity to ride some amazing courses with some impressive athletes over the years," says Vande Velde. "However, taking part in CAF's Mazda Foundation Million Dollar Challenge last year was a life-changing event for me. Riding side-by-side with some of the challenged athletes you are helping to support is truly inspiring and eye-opening. Witnessing the strength of some of these individuals – some missing a limb, some with a spinal cord injury, some blind – really makes you realize there is no obstacle the human spirit can't overcome."
Participants in the Mazda Foundation Million Dollar Challenge will join Vande Velde and other celebrities and pro athletes like Bill Walton and members of Team Garmin Barracuda to cycle some of California's most scenic coastline, epic climbs and serene valleys. The event not only provides a luxury cycling experience during the event, complete with professional SAG and support, premier accommodations and daily massage, but also a weekly training plan and organized training rides (based in San Diego) leading up to the event.
"We are excited to welcome Christian as one of our chairman," said Virginia Tinley, executive director of the Challenged Athletes Foundation. "Year after year we hear how impactful this event is on participants. Having an experienced and elite athlete like Christian not only participate, but take a leadership role is truly a testament to the quality of this ride."
To learn more about CAF's Mazda Foundation Million Dollar Challenge or register for the event visit www.challengedathletes.org or contact Julia Dugan at [email protected] or 858.210.3511.
Image courtesy Challenged Athletes Foundation