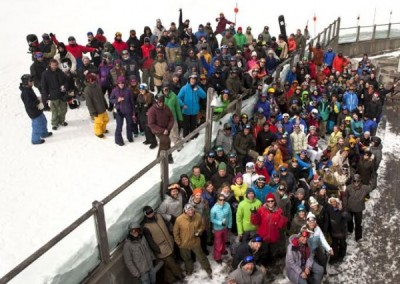 Don't be surprised if you call Burton Snowboards tomorrow and get a message that says something like, "We're sorry we can't get to your call right now. We're out enjoying some springtime turns for our Company Ride Day." That's because for over 25 years, Burton has celebrated the end of the season by closing the office for a day so that employees can ride together.
This year's Ride Day is on Friday, March 28, and for the first time, the tradition is going global with Burton's offices in Vermont, Montreal and Innsbruck taking the day off to snowboard together. Burton's regional sales reps in North America and Europe are also closing for the day and going snowboarding with their employees and local shops.
It's a tradition that goes back since the early days of the company, and it just keeps getting bigger and better every season. The highlight is when Burton's Founder & CEO Jake Burton and Burton President Donna Carpenter lead hundreds of employees down the Gondolier run at Stowe for a group ride.
If you get out on the hill tomorrow, be sure to tag your Instagram photos with #BurtonRideDay so we can see how you spent your Ride Day.
See you at the mountain.
Image courtesy Burton