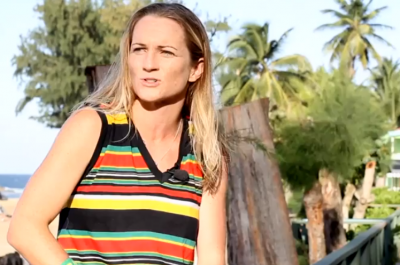 Professional bodyboarder Lilly Pollard broke her back and neck while at Mystics Beach in New South Wales, Australia on Tuesday morning.
Pollard, who claimed the APB Pipe Challenge 2014, was airlifted to Wollongong Hospital and said she had pain in her neck, head, and lower extremities, according to the Illawarra Mercury. An X-ray showed the 32-year-old athlete did not have any spinal damage, but was in serious but stable condition. Doctors are waiting on the results of an MRI to determine if there is any more serious ligament damage.
The bodyboarder sustained the injuries when a large wave pushed her head-first into a sand bank, fracturing three of her vertebrae.
"I went out like any other day, but this wave flipped me and drove my head straight into the sand," she said. "I'm feeling very lucky. It could have been worse, I could have been knocked out in the water."
She said she'd like to get back to bodyboarding as soon as possible before the next event in August, but said she's taking time to heal.
"Lots of rest time for me. Massive thanks to the boys that carefully carried me out of the water. You saved me! Hospital is great. I'm naked and full of ice cream! Woo!" said Pollard, according to Surfer Today.
Image is screenshot of video by IBA World Tour on YouTube