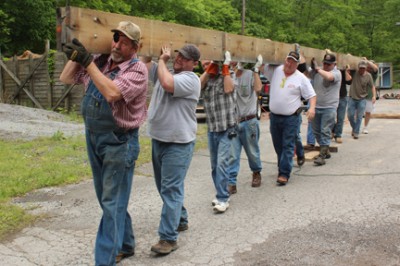 The Union Sportsmen's Alliance (USA), a Nashville-based non-profit, conservation organization, is pleased to announce a Bridge Dedication and Ribbon Cutting Ceremony planned to recognize volunteers who rebuilt a walking bridge in the heart of Montgomery Bell State Park washed away by the 2010 floods, as part of USA's Adopt-A-Park program.
The event will take place on Saturday, March 29, from 10:30 a.m. to noon at Montgomery Bell State Park, 1020 Jackson Hill Road, in Burns, Tenn.
Program for Photo Opportunities:
10:30 – 11:15 – Welcome/Refreshments – Woodhaven Picnic Pavilion – Live bluegrass musicians, Boy Scouts of America Troop #85 and guests enjoy a short program led by Fred Myers, Executive Director of the Union Sportsmen's Alliance. Myers is slated to recognize the union volunteers from the Nashville Building & Construction Trades, Spann Brothers Lumber Co., and Montgomery Bell State Park.
11:15 a.m. – 11:45 – Guests enjoy a nature trail ranger walk to the bridge
11:45 a.m. – Noon  – Ribbon cutting; Guests take first "ceremonious" walk across the bridge. All lumber used to build the bridge is reclaimed wood from fallen trees in the park.
"American's more than 7,000 state parks are an intrinsic part of our country's culture and legacy, but they're continually faced with budget challenges and often have a backlog of repair and maintenance projects," said Fred Myers, Executive Director of the Union Sportsmen's Alliance. "USA's Adopt-A-Park program brings together volunteers to help renew, rebuild and restore America's parks so they will be here to enjoy for future generations."
Image courtesy Union Sportsmen's Alliance