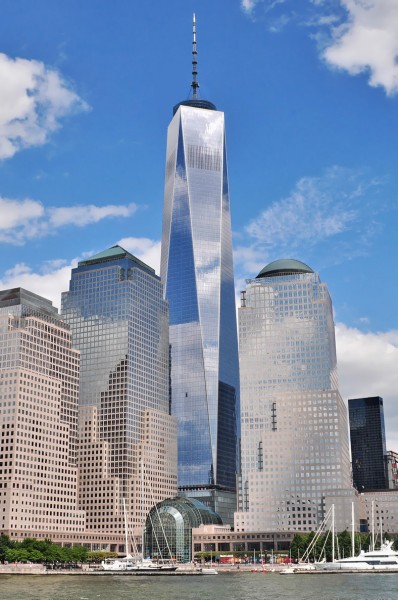 The One World Trade Center is in the headlines again as four men have been arrested after turning themselves in for BASE jumping off the building, also known as the Freedom Tower. Three of those arrested were the jumpers, while one was the lookout.
The jump took place at 3 a.m. on September 30, 2013, according to the YouTube video posted by the jumpers, which can be viewed below. The charges the men will face include felony burglary, misdemeanor reckless endangerment, and misdemeanor jumping from a structure, according to Fox News. The three jumpers were Andrew Rossig, James Brady, and Marco Markovich, while Kyle Hartwell was the lookout.
This is the second time recently that people have managed to sneak into the building. Earlier this month, 16-year-old Justin Casquejo made it to the roof of the building where he spent several hours taking photos. He was arrested after.
These two incidents have brought up a number of concerns regarding the security of the building. Several security employees were either fired or reassigned after Casquejo made it inside. The NYPD announced it was looking for parachutists who were seen at the building on September 30, but was unable to apprehend anyone. They were able to determine who the jumpers were, however, and have spent the last several months conducting further investigations. Police searched their homes in March and discovered the video of the jump.
BASE jumper Rossig told the Associated Press the whole experience was "very exhilarating."
"It's a fair amount of free-fall time," he said. "You really get to enjoy the view of the city and see it from a different perspective."
Fellow jumper Brady was a former ironworker at the building, but he declined to comment to the media.
According to Fox News and the AP, Police Commissioner William Bratton said the investigation was a joint effort by the NYPD and the Port Authority Police.
"These men violated the law and placed themselves, as well as others, in danger," Bratton said. "These arrests should send a message to anyone thinking about misusing a landmark this way. They will be tracked down and they will face serious charges. Being a thrill-seeker does not give immunity from the law."
Check out the POV video of the BASE jump below.