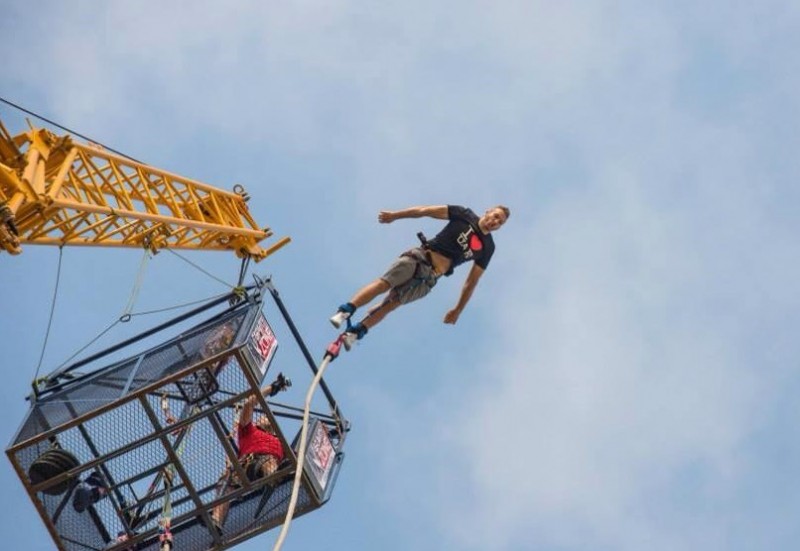 Colin Phillips has set a new record for the highest number of bungee jumps completed within a 24-hour period with 151 jumps. The UK native traveled to Dubai to execute the task, where he jumped from a 328-foot crane at Dubai Autodrome's Gravity Zone.
The 33-year-old is a fitness coach, CrossFit athlete, and professional rugby player. Phillips began the jumps a little after 7 p.m. on Thursday, and had surpassed the previous record of 105 jumps held by South African Kevin Huntly by 10:20 a.m. on Friday. But just for good measure, he continued jumping. A Guinness World Record adjudicator oversaw the 24-hour event in order to provide verification.
"I feel a bit beaten up, to be honest," said Phillips, according to The National. "Every jump has been different. Sometimes it's a good one, sometimes it's not so good."
To reduce impact, the position of the harness was changed between jumps. Sometimes it was secured around his chest and at other times it was around his ankles. Despite the precautions, Phillips still sustained a dislocated finger, but it was quickly put back in place by a sports therapist so the record attempt could continue.
The actual time spent jumping was 12 hours, which was separated into three four-hour segments, giving him time to rest between each one.
Phillips said he expected to deal with dizziness and migraines, but only had "acute acid reflux," because of how little he ate.
Samer Khallouf was the Guinness World Record adjudicator and said a regional office for the organization was brought to Dubai at the beginning of last year because of demand that has only increased since.
"The office was opened here because demand was so high for record-breaking events," he told The National. "Even so, demand is increasing because people have better access to us now."
Image courtesy of Colin Phillip's Facebook