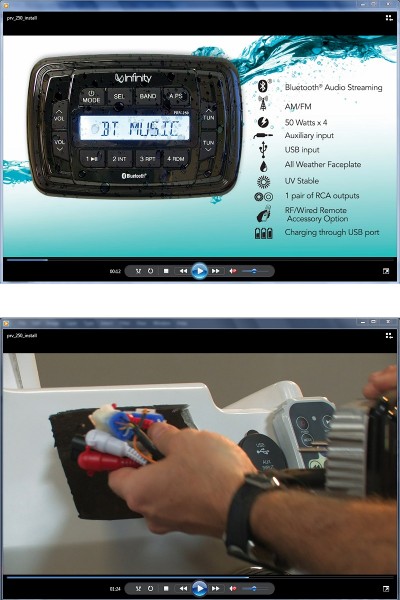 To better showcase its products and how to install them, Prospec Electronics recently created a video series dedicated to its innovative line of marine electronics. So far eight videos covering four of the company's key models are available and can be viewed on the company's website, www.prospecelectronics.com.
The first videos cover the JBLMBB2020, INFPRV250, INFMR180, and the JBLPRV170 receivers. Each model has an installation video documenting the proper way to mount the products as well as a separate video that highlights its features and benefits. The series will expand as new models are introduced to the market.
The installation video is geared towards dealers and consumers. Viewers are taken through the process from beginning to end with a helm as the installation surface. The feature-focused videos show viewers firsthand the pairing process of each unit via Bluetooth (if applicable) as well as the other innovative features of each model.
Prospec has manufactured and distributed Milennia, JBL Marine, Infinity Marine and Seaworthy brands for over 25 years. The company's products include stereos, black boxes, controllers and accessories that focus on the portable media movement.
Image courtesy Prospec Electronics