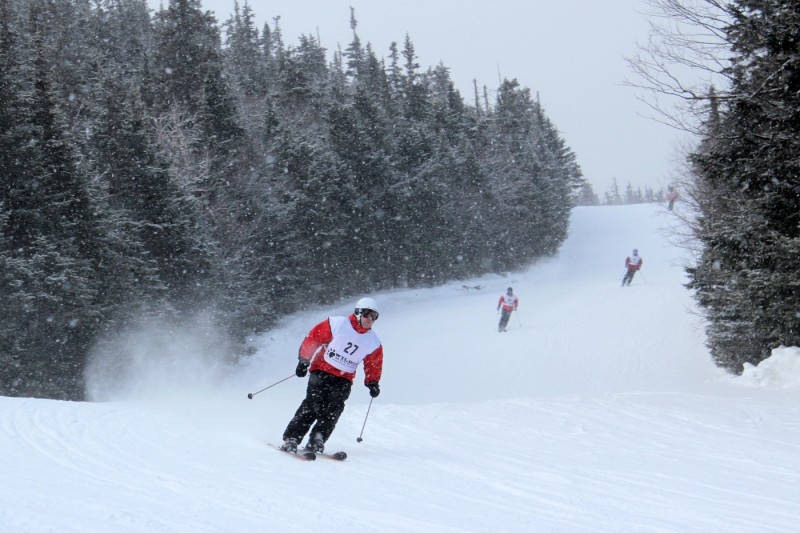 Maybe 15 runs into his ski day, Mark Holmes was riding the lift dressed in about seven layers of clothing, making him more prepared for sub-zero chills.
He had to stay warm because that's where he'd be all day, riding that lift maybe 50 times and taking the same exact run—all in the quest for skiing 100,000 vertical feet in a single nine-hour "day."
"The thing that I like about this is that on any given day, the patrol would be pulling our tickets for what we're doing," said the Wildcat Ski School technical director from Shelburne. "But today they are encouraging it."
Holmes is the man behind the 11th annual 100K Vertical Challenge at Wildcat, where skiers and riders attempt to ski that benchmark number and raise money for the Make-A-Wish Foundation of New Hampshire.
Recently, about 40 participants hit the roped-off Lynx Trail, traveling more than 2,100 vertical feet per run. Complete the task in 48 runs with a cap of 50. That's about 11 minutes, 15 second per up the Wildcat Express Summit Quad and then down the course. The lift ride was about seven minutes.
The event started over a decade ago with bragging rights, as Holmes has a personal best of 58. He's done the quest 11 times. Someone has the record of maybe 62 or 63.
And Wildcat in Pinkham Notch, New Hampshire has the the goods for making it all happen: a fast lift and more than 2,000 vertical.
Skiers went non-stop, many carrying toe and hand warmers to stay heated. They also made pit stops during the day for relief and fuel.
Strangers soon became platoons of foot soldiers united in a common cause. Skiers rode the lift, more appreciative of the foot rest as the day wore on.
Center Conway's Erin Wiggin shared a chair with South Boston's Hilary Tellier. They hadn't met before, but fell into the same cycle.
While it was the first time for the both of them, Erin's husband Ben was skiing the quest for the fifth time.
"I've been here while he's been doing it, but always skiing those trails," Wiggin said, pointing away from the Lynx. "I just decided I wanted to try it. It makes for a great cause and now can say I did 48 to 50 runs at 35. Woo hoo."
Ben was with her for some five runs before venturing off. The idea was to start and finish together.
Some skiers followed one another to pace themselves. Others tried not to turn much, and made adjustments in their lines as the course wore over the day.
"I think this might be more of a mental challenge than a physical challenge," said Tellier, a recreational skier. "Just because the course is manageable and it's more getting into the mentality of a full nine hour day."
The day started at 4 a.m. for forty-something friends Mark Avery and Andy Davis, making the drive from the Upper Valley, the region straddling Vermont and New Hampshire.
"We've learned you have to keep pace," said Davis of East Thetford, Vermont on about the 12th run. "Passing isn't easy so it's easier to pick a line and stay there."
Training? Nope.
For Avery, the event was something out of the ordinary, but very do-able.
"This gets us out of the routine, gets us away from the electronic devices, off our chair and gets us moving," said Avery, of Fairlee, Vermont. "This is a great motivator to do that."
Conway's Sam Moore was on AT gear and is more at home in the backcountry than riding a lift.
Training? Nope. Skied maybe five times this season.
"I just want to make as few turns as possible and try not to use up too much energy," he said.
All for a good cause ($158,000 was raised) and bragging rights (everyone reached 100K). Woo hoo.
Image courtesy Wildcat Mountain