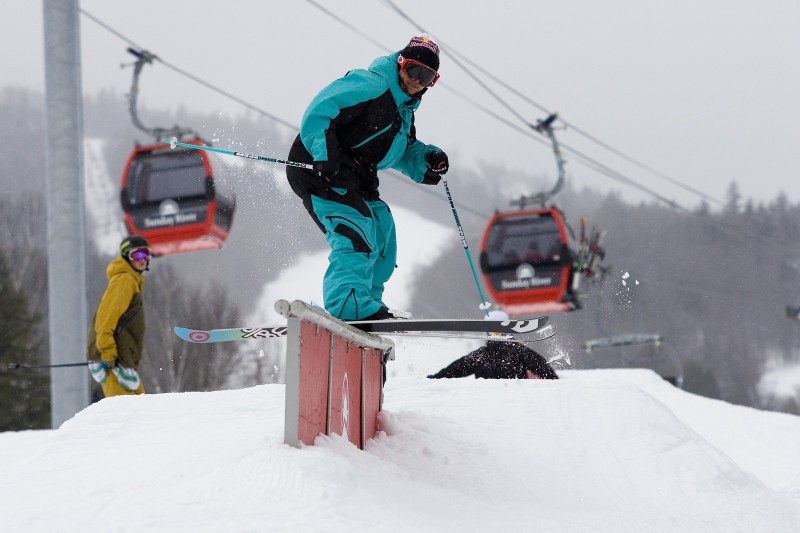 When the godfather of freeskiing calls, they come.
Topping the list of soaring luminaries are Sochi's sweeping slopestyle skiers.
The United States won gold, silver, and bronze during slopestyle skiing's Olympic debut and the reigning troika of talent—Joss Christensen, Nick Goepper, and Gus Kenworthy—will all be at the competition at a western Maine ski area where there are more moose than traffic lights.
Olympians Bobby Brown and Torin Yater-Wallace are coming.
So is Alex Schlopy.
Tom Wallisch, too. But's he's a judge. He's recovering from an injury.
They're prepping for the sixth annual Dumont Cup March 28 to 29 at Sunday River.
And of course, the godfather will be there, in something of a new role. He'll be announcing.
That's Simon Dumont, the X Games legend who recently semi-retired from competition in the the sport he helped grow to new heights. He returns every year to his home mountain, having grown up in Bethel, Maine.
So, how's the godfather get the most famous freeskiers in the world to come?
"A phone call," he said the other day on the phone while pedaling a bicycle. "I'm friends with all these guys. I've also earned some respect within the industry. I called everybody personally."
Guess they can't refuse the godfather.
Dumont, 27, is an "old" flyer in the new-school sport. His recently-announced semi-retirement follows a career that started as a teenager and includes a boatload of X Games medals.
He's had plenty of injuries to this hand, wrist, both knees, and other body parts, but the latest was a deal breaker on the way to the promised land of Sochi. In January, he injured his ACL and his Olympic dreams were crushed.
He soon made his announcement, but continues his role as a mentor and a promoter. And as a skier, too.
"I've been doing this job professionally since I was 13 and I want to see what else I like in life," he said. "Skiing is still huge in my life and I'll try to make a sick ski movie. That's in the game plan. But I've got some other things up my sleeve."
Maybe coach or do a Simon Dumont freeski camp?
"At this stage in my life I don't need to coach just yet," he said. "Maybe agent or mentor. I understand the business side. I still have some things I want to do with skiing."
Dumont now lives in Denver and has been spending most days in Park City, Utah while he rehabs from surgery. He's in the gym daily and said he had full range back in two weeks, recovering quickly.
Now his skiing focus is on his baby, the Cup. It's a pro-am event with some $20,000 up for grabs for the pros. Not exactly chump change, but no big purse either. The amateurs can win prizes from the sponsors.
Some of those famous faces have been here before. Goepper's won it twice. Kenworthy won it once. So has Schlopy. Wallisch, too.
That's the rub about the Cup. These guys were once, well, nobodies. That keeps things interesting.
"You never know who is going to win," he said. "That's the thing about this sport. The talent pool is amazing. There' s strong European contingent coming. The East Coast has some incredible talent. You never know."
The course is on a new spot at the eight-peak resort, the T72 terrain park. Dumont described the old course of five years as kind of flat and not the greatest space, kind of narrow.
But no more.
"I said, hey, we need a better course if we want better athletes and want to make a statement. Sunday River is so park-centric with the most snowmaking. Our visions align, wanting something bigger and better every year. So we're going to get bigger and better every year."
Dumont's also taking the mic on this one.
"I'll be announcing," he said. "I want to make a great show out of this. These athletes are super hungry and I want to show how cool this sport is."
Can't make it? Watch the live stream at www.freeskier.com.
'Cause the godfather says.
Editor's note added 3-19-2014: This article has been adjusted to indicate that Dumont is semi-retired.
Images courtesy Sunday River