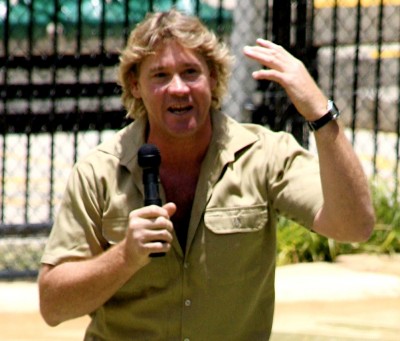 Justin Lyons, the cameraman for Australian TV host Steve Irwin, recently revealed the details of Irwin's death on September 4, 2006.
The Animal Planet celebrity and Lyons were filming a documentary called Ocean's Deadliest, during which they were milking venom from sea snakes and searching for tiger sharks off Queensland's coast.
Filming had been put on hold because of bad weather, but Lyons said Irwin was determined to continue working.
"Steve was like a caged tiger when he couldn't do something," Lyons told Studio 10, an Australian TV network. "So we jumped in the inflatable and off we went to look for something to do."
He said they soon came across a stingray in water that was about chest-deep. Lyons described the animal as an eight-foot-wide "massive" bull ray, and said they're typically calm and tend to just swim away if they don't want to be around people.
Lyons had been filming Irwin and the stingray for a few minutes, and he said the plan was for Irwin to swim up behind the ray so it would then swim out of the frame. Rather than swimming away, the stingray propped on its front and started stabbing Irwin with its tail—"hundreds of strikes in a few seconds."
"It probably thought that Steve's shadow was a tiger shark, which feeds on them very regularly," Lyons said. 
Lyons then began to notice how much blood was in the water.
"He stood up and screamed, 'It's punctured me lung,'" Lyons said. "He was in extraordinary pain. He didn't know it had punctured his heart."
Although several media reports at the time said Irwin pulled the stingray's barb, which was about one-foot long, Lyons said that was false.
Lyons said he and the crew assisted in bringing Irwin back on the boat so he could be taken to the hospital, but it was too late, as he bled out quickly.
"He just sort of looked up at me calmly and said, 'I'm dying.' And that was the last thing he said," Lyons continued.
Watch the interview below.
Image courtesy of Richard Giles on Wikimedia Commons