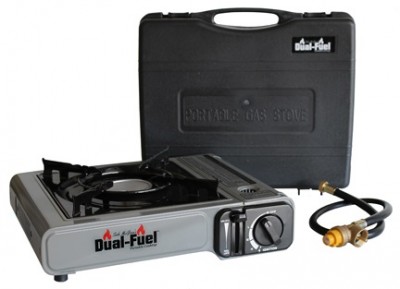 Seth McGinn's new Dual-Fuel portable cooktop is nothing short of groundbreaking with its ability to utilize two different types of commonly available fuel types to cook meals and boil water anywhere, anytime. The Dual-Fuel's ability to operate on either butane or propane makes the Dual-Fuel extremely flexible, and its electronic ignition makes it very easy to use.
Seth McGinn's patent-pending Dual-Fuel is compact, measuring only 12 3/4 X 13 7/8 X 3 5/8 inches and weighing just 5 lbs, including its durable, injection-molded plastic carrying and storage case. The new Dual-Fuel is perfect for camping, hunting, fishing, RVing, tailgating or any outdoor cooking situation, and it is exceptionally quiet during operation. It uses either a standard 8 oz. butane canister or a 16.4 oz. propane canister. No batteries are required.
Seth McGinn's Dual-Heat will be available at retailers this spring at a suggested retail price of $69.99.
Before you venture out to the woods, the lake, the river or your next game, be sure to stop by your local retailer and pick up a Dual-Fuel for your on-site cooking needs.
Image courtesy CanCooker