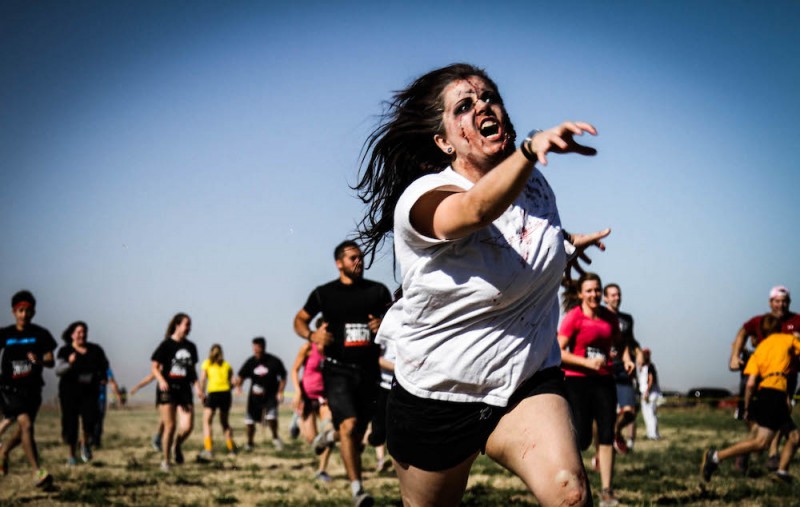 Things are just getting weirder out there.
The peripatetic apocalypse is coming soon to a city near you as the 2014 Zombie Run season gets under way this month with a couple of new twists blending TV horror and video games with ghoulish pursuits.
The Zombie Run: Extreme and The Zombie: Black Ops are a couple of new themed runs promising smoke, mud, fire, improved obstacles, night running (that's the Black Ops event), and of course, more zombies.
That's all in a 3.1-mile run, with humans being chased by flesh-eating zombies. Kind of like The Walking Dead, but running.
The zombie fad begins on March 15 in Sacramento and the infestation is expected to spread to some 30 cities across the country like Baltimore (April 26), Detroit (June 14), Portland, Oregon (August 2), Denver (August 2), Seattle (August 9), and Boston (October 18).
Runs are scheduled into November, and tend to be either in the city, or within about a 90-minute drive of one.
"There's a zombie culture that's alive, no pun intended, and enthusiastic just like there's a competitive, obstacle-racing culture thriving," said Chloe Swenson, The Zombie Run race director. "We couldn't help but feed off that and combine the two to produce an obstacle-based zombie run."
The Zombie Runs are a couple of new contests debuting on Human Movement Management's (HMM) roster of events this year.
The Colorado-based company has been producing the world's largest running races, beer festivals, triathlons, mud runs and outdoor events throughout North America. Other national HMM event series include Dirty Girl Mud Run, The Ugly Sweater Run, and The Color Run.
The Zombie Run, including Extreme and Black Ops, are the only nationally-touring zombie events that take over city streets and parks focusing on a fully scripted, suspense-filled back story that now adds in obstacles.
Professional, on-site make-up artists transform normal, warm-blooded humans into brain-craving zombies. But the event doesn't end after participants cross the finish line. The after-party allows zombies and runners to unite and celebrate the end. Some locations will also allow camping.
"These events are spreading like wildfire and we couldn't be more excited," said Swenson. "We are all in awe by the insane support behind our ventures and it fuels our goal to make these events an all around runner experience […] and of course to make people's weekends pretty awesome."
A portion of registration proceeds are benefiting the Kennedy Krieger Institute, the national charity sponsor of The Zombie Run, supporting innovative treatments and improved patient care for kids with brain injuries and disorders.
"What's cool about this event is it's not just for zombie enthusiasts," said publicist Amber DiGiallonardo. "This event invites obstacle-running enthusiasts and any first-time 5K participants to come together to set goals and accomplish something that is possibly out of their comfort zone, while at the same time supporting a great cause."
Sounds tasty.
Check out a teaser for the Black Ops event below.
Images courtesy Human Movement Management