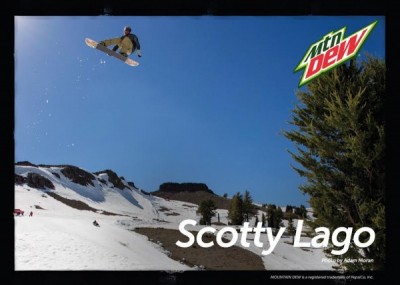 Mountain Dew is thrilled to welcome Scotty Lago to the DEW team, joining fellow Frends Crew member Danny Davis to form an elite roster of snowboard athletes. Lago earned a bronze medal in the men's halfpipe snowboard competition at the 2010 Vancouver Winter Olympics.
"Scotty is one of the top snowboarders today, and we're very excited to welcome him to the DEW team," said Greg Lyons, Vice President of Marketing, Mountain Dew. "Scotty's style on the snow pushes conventional boundaries, which is something that DEW has always been passionate about supporting, so we know he'll bring a great, new dynamic to the roster."
"I'm so hyped to be a part of the Mountain Dew team," comments Lago. "I've always wanted to ride for Mountain Dew…to join the likes of my buddy Danny Davis, Paul Rodriguez and Dale Earnhardt Jr. is amazing ­– let the games begin!"
Lago, who most recently was a member of the AMP Energy snowboard team, started snowboarding at the young age of six, riding in the local mountains near his hometown of Seabrook, N.H. and tackling various challenges including halfpipe, big air, and slopestyle competitions, backcountry riding and keeping snowboarding fun through other grassroots efforts. Along with a bronze medal in the 2010 Vancouver Winter Olympics, Scotty has also found huge success in other elite competitions including the World Cup in 2006, where he won gold in the halfpipe and the U.S. Open of Snowboarding two years later taking the top spot on the podium for quarterpipe.
"Scotty is my best friend and one of the best snowboarders I know," stated fellow Mountain Dew rider Danny Davis. "I'm really excited that he's joining Mountain Dew. It's great to have a friend on the team."
Join the conversation about Lago and DEW @mtn_dew #ScottyJoinsDEW.
Image courtesy Mountain Dew