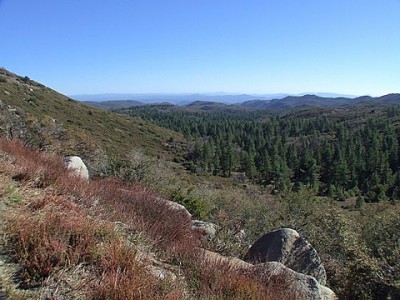 On March 1, Andres Marin embarked on a mountain bike ride through San Diego's Cleveland National Forest to celebrate his birthday. When the 34-year-old failed to return home later that day, his wife, Christyna Arista, attempted to get in contact with park rangers in the mountains. After she was unable to reach them, she reported her husband missing to the Sheriff's Department at 5:30 p.m.
When her husband was found dead, leaning against a hill in the forest while still on his bike, Arista expressed anger that more wasn't done to search for her husband.
"He was still trying, he was still fighting. He froze to death up there," she told the Los Angeles Times.
Upon first contacting authorities regarding his disappearance, Arista told police about her last phone conversation with her husband that took place during his ride. She said he informed her he had fallen and wasn't able to recall some of the ride. She said his speech was slow and his responses were delayed.
Despite her insistence that her husband was injured and ill-prepared for the coming conditions, Sheriff Lt. Zachary Hall announced the rescue would be put on hold because of bad weather, which was also supported by mountain experts. Fog, heavy rain, and thunderstorms were predicted.
She had a copy of the route her husband was riding and said, "If he thought the conditions were dangerous, he wouldn't have gone out there. He didn't go out there in foolishness."
The weather meant that neither a helicopter or motor vehicle could be used, and that trail heads would likely be washed out, making it near-impossible to lead a rescue effort on foot. Despite the warning, Arista along with friends and family set out to search for her missing husband.
"We were setting ourselves up for a self-rescue," Hall said of the decision to halt the search. "Had we known his exact location it would have been easier to find him, but we didn't have that, we had a possible area."
"I'm upset we didn't find him in time," he continued. "At the end of the day, it was too dangerous to send crews in."
Image from Althepal on Wikimedia Commons