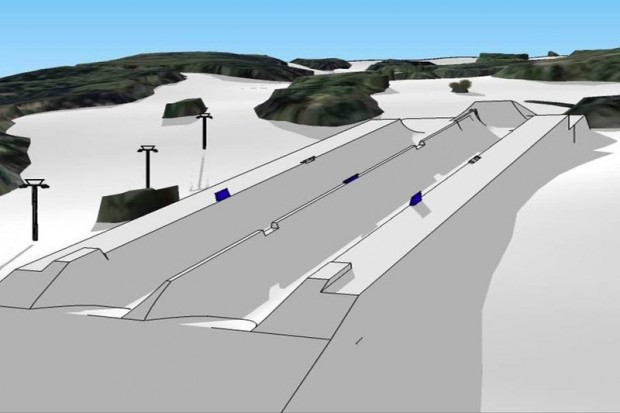 Red Bull and Aspen Skiing Company have announced a plan to build a double halfpipe at the base of Buttermilk Mountain in Aspen, Colorado for the Red Bull Double Pipe contest that will be held from March 19-23. Twenty-four professional snowboarders from around the world will be competing in the contest that is open to the public for viewing. It will also be aired at on NBC at 2 p.m. (EST) on April 12 as part of the Red Bull Signature Series.
Each halfpipe will be more than 550 feet long, approximately 68 feet wide, and 22 feet tall. There will be a four-foot spine between the pipes.
"[It] will allow riders to transfer back and forth between the two halfpipes in a single run, opening up an endless number of potential lines and combination of tricks that are not possible in traditional halfpipe contests," the news release stated.
Riders will be judged on technical abilities, style, creativity, and use of the course.
"Progression is a beautiful thing," John Rigney, vice president of Sales and Events at Aspen Skiing Company, said in the news release. "It's always incredibly exciting having the best athletes in the world competing here in Aspen/Snowmass, but to see this select group tackle an entirely new challenge at Buttermilk right here in our backyard is going to be amazing. We are proud to partner with Red Bull on another groundbreaking event."
Although the news release claims this is the first time a double halfpipe has been constructed, several others beg to differ. According to an update added to an article written by On Board Magazine, the publication's editor-in-chief pointed to a video showing footage from 1999 where a double halfpipe can be seen at 11 minutes in. In addition to On Board's rebuttal, Facebook users Carolyn E MacDonald and Mark Sullivan commented on a Transworld Snowboarding article and said they've seen double halfpipes built at Timberline Ski Resort, Dodge Ridge Ski Area, and in Banff in the past, although ActionHub was not able to confirm these statements.
The superpipe currently located on Buttermilk Mountain will be closed to the public during the construction of the double halfpipe. After the contest, the Red Bull Double Pipe will be available for the public to ride. The double halfpipe was designed and will be built by Snow Park Technologies.
For more information about the Red Bull double halfpipe, check out the website.
Image courtesy of Red Bull