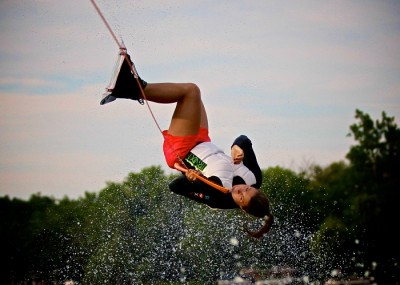 SheShreds.co — the only retail and cultural online store dedicated to female athletes in action sports — has new allies in Australia, Belgium, and the United Kingdom: Sadie Osborne & Rosie Flaherty (Skate Girls Production), Jana Coppensco (Girls Session), Ashleigh Thomas (Professional Kneeboarder), and Sheree Perez (Adaptive Wakeboarding Pro).Like-minded ladies who lead incredible action sports initiatives further fortifies the SheShreds.co mission: bring awareness, participation, and progression to females in snow, wake, and skate sports.
"SheShreds fills a void that pretty much tackles every stigma that's involved with girls and board sports," began Sadie Osborne, co-creator of Skate Girls Productions, Weymouth, Dorset, UK. "The company's passion and ethics are very much in line with how we feel here at SGP, and we love to support others who share the same passion."
Skate Girls co-creator, Rosie Flaherty adds, "SheShreds is focused on helping girls find their confidence. We're stoked to be their friends and supporters, which is why we rock their gear and feature them in our photography and videos.  We want to spread word throughout England about what they do, because together we can accomplish so much more."
"The simple fact that SheShreds is giving girls… [and] women a chance to do things within sports is inspired. At Girls Session, we try to give girls the same chance to express themselves and progressing skateboarding. We believe by working together we can make things happen," Said Jana Coppensco-creator & event organizer Girls Session, Waarloos, Antwerpen, Belgium.
"I was keen to get on board and support a brand that encourages girls to get into the shredding sports! SheShreds makes girls feel like they can own sports traditionally dominated by men. It offers girls a chance to stand out and stand up, doing what they love, and support a company that supports them! I hope to use SheShreds to get girls out there, involved, and shredding it up in style — especially on the water!" Ashleigh Thomas (Ashie Tee), Professional Kneeboarder, Adelaide, Australia.
"I hope to set an example through my faith & actions: no matter which injuries you face, enjoy the journey," began Sheree Perez, adaptive Wakeboarder, Orlando, FL. "I am attracted to the positivity SheShreds.co instills in young girls & women. Their uplifting influence in male-dominated industries is enlightening. Aligning with them empowers me and hopefully other females to sustain faith through any of life's obstacles."
Founder Gina Duffy is humbled by the reach SheShreds.co has achieved in just a couple months of operation, but equally excited by the long-term benefits that all who are involved will bring to females in action sports.
Image courtesy SheShreds