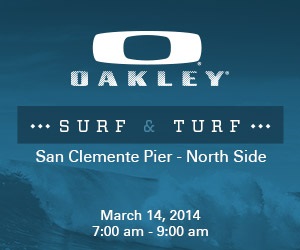 In October of 2013 Oakley shook the foundations of traditional recruiting and created the Surf & Turf, an innovative opportunity for prospective employees to meet both the Oakley Talent Acquisition team and a group of passionate hiring managers. The result: 100+ attendees, 4 hires and an authentic pipeline.
On March 14th, 2014 Oakley will once again shake the foundations of recruiting so savagely that Poseidon himself will awake and in his anger he will strafe the coast with an overabundance of sinister swells. For those that dare… grab your board, wax and most importantly your resume and head out to the North side of San Clemente Pier. For the landlubbers…do not fear. Everyone will have the opportunity to meet with the Oakley Talent Acquisition team and several of the company's hiring managers. Some will be on land…others you'll have to paddle out to.
"We are traveling down for the event from San Francisco in hopes of networking and learning more about the action sports industry," said Phuong Lam, who registered with her boyfriend for the upcoming Oakley Surf N' Turf. "We hope to possibly come out of it with positive news or at least good leads. You never know where life takes you."
Six people from Oakley's HR team and 10+ hiring managers will be on the North Side of the San Clemente pier from 7 to 9 am. Follow the smell of coffee and donuts or just look for the Oakley stand up.
Spongers welcome.
RSVP http://www.eventbrite.com/e/oakley-surf-n-turf-tickets-10398156165
Logo courtesy Oakley