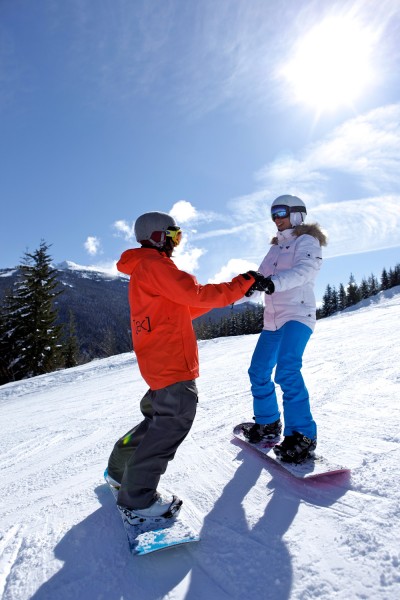 Whistler Blackcomb's popular 'Never Ever Days' are back for the second time this season on March 8 and 9. Normally a skiing and snowboarding event, this 'Never Ever Days' will have a snowboard only focus, offering a one day lesson, lift ticket, board rental, and après to the first 200 adults (ages 19 and up) for only $25. This special snowboard-only version of 'Never Ever Days' will go on sale March 1, and like previous events, is expected to sell out very quickly.
Never Ever Days originated three years ago to encourage and attract new skiers and snowboarders and has introduced over 1200 adults to skiing and riding at Whistler Blackcomb. This snowboard-only edition is a contribution to Whistler Blackcomb's snowboard revitalization project, intended to grow the sport of snowboarding by providing potential students with an affordable way to learn.
"Historically we have seen a drop in snowboard participation in snow school in March and April," says Bartosz Barczynski, general manager of Whistler Blackcomb's adult snow school. "Coincidentally this is a great time to learn to snowboard because the snow is great and temperatures are generally more mild than mid-winter. Hopefully 'Never Ever Days' will foster some new participation in snowboarding and encourage people to enjoy our great spring riding here at Whistler Blackcomb."
Participants of Never Ever Days who fall in love with the sport will be able to purchase their snowboard rental package from the day starting at $99 so they can continue to ride for the rest of the season. As a continued effort to encourage guests of all ages to learn or improve their skiing and snowboarding, Whistler Blackcomb's snow school also holds Discover Whistler Days which offers 30 per cent off select group lessons at various times throughout the season. Discover Whistler Days is currently running until March 14 and then will return for spring skiing and snowboarding from March 31 – April 6.
Whistler Blackcomb hosts one of the best and largest snow schools in North America with over 1000 instructors teaching up to 250,000 lessons each season. From beginners to experts, adults to children, the snow school offers a variety of programs catering to the needs of each and every guest.
Guests looking to register for Never Ever Days on March 1 can visit whistlerblackcomb.com/learnsb.
Guests looking to plan a trip to the consistently rated No. 1 Mountain Resort in North America can visit whistlerblackcomb.com/deals_packages or call 1-888-403-4727.
Image courtesy Toshi Kawano/ Whistler Blackcomb