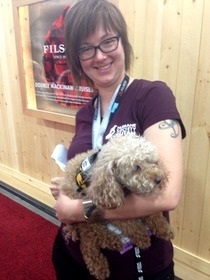 Partnering with the Humane Society of Utah, Icebug® Footwear recently raised nearly $600 for homeless pets at this year's Outdoor Retailer Winter Market in Salt Lake City. Paying homage to their homeland, the Swedish brand served Swedish pancakes to any show attendee who donated $1 or more to the Humane Society of Utah.
"Dog walking can be an extreme sport, especially when it's icy," said Evan Wert of  Icebug USA. "Icebug specializes in preventing slip and fall accidents – something almost all dog walkers are too familiar with. Steel studs built right into our BUGrip outsole keep everyone upright and happy. We wanted to find a way to support both dogs and their guardians and the Humane Society of Utah was a natural fit."
"We're so happy to partner with Icebug to bring visibility to the wonderful animals we have at the Humane Society here in Utah," said Jamie Usry, Director of Development at Humane Society of Utah. "We know from firsthand experience that walking dogs in the winter can be a hurdle to responsible pet ownership and enjoyment. Studded, comfortable shoes can turn that around and make it fun and rewarding to take a dog and get outside."
Icebug's BUGrip technology features carbide steel studs built into the outsole, providing ultimate traction and safety for walkers of all types.  The Icebug BUGrip line features shoes for walking, running, hiking and trail running along with a collection of stylish boots for everyday wear.
Image courtesy Icebug Footwear