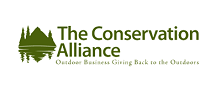 The Conservation Alliance announces a new events series for member companies called "Wild Drinks" to bring together member company employees and local conservation organizations in a happy hour setting.
The first Wild Drinks event was on February 11 at the Discovery Ventura bowling alley in Ventura, California. The Conservation Alliance teamed up with Patagonia, Horny Toad, and Deckers Outdoor for a night of bowling, food, and fun. More than 70 individuals participated in the inaugural Wild Drinks event.
During the event, participants took action with local conservation organizations California Wilderness Coalition, the Environmental Defense Center, and Los Padres Forest Watch by signing on to various letter writing campaigns.
"The Conservation Alliance has a rich history in this part of California and with these organizations," said John Sterling, Executive Director of The Conservation Alliance. "Wild Drinks is a great way to celebrate the work we've accomplished together, as well as to rally additional support on the local level for our grantees."
"Wild Drinks provided a terrific opportunity for the Environmental Defense Center to connect with people from conservation-minded businesses in and around Ventura County," said Owen Bailey, Executive Director of the Environmental Defense Center. "It was exciting to meet so many passionate people and share ways to engage with some of the important work being done to protect open space and wild lands along California's south central coast."
Similar Wild Drinks events are planned for Boulder, Colo., Portland, Ore., Seattle, and San Francisco.
For more information about this event, please contact Outreach Coordinator, Brook Hopper at [email protected].
Logo courtesy The Conservation Alliance