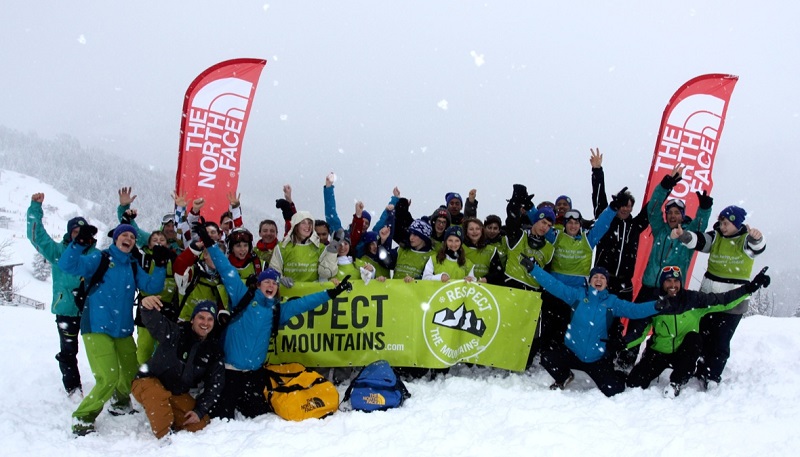 Last Friday, Respect the Mountains organized a pilot youth program called EPIC 'Exploring Peaks, Inspiring Conservation' in Samoëns, French Alps. The one-day event was funded by The North Face Explore Fund, through a grant from the European Outdoor Conservation Association (EOCA).
The goal of EPIC is to provide impactful entry-level mountain awareness training for youth of twelve to sixteen years of age.
Patrick Gabarrou, one of the guides and a well known mountaineer with many first ascents behind his name, said in a local radio interview: 'The mission of the four 'guides de haute montagne' on this EPIC day is to teach youth about this mountain environment and the safety issues involved. We have the knowledge and love to transmit this to the youth. We do this with enthusiasm but are also careful: youth can be a bit reckless sometimes and it is our job this day to make them aware of the dangers as well'.
In the morning, twenty-four enthusiastic youth attended a mountain education workshop based on the '7 Ways to Respect the Mountains', then the youth visited high-use picnic areas around the mountain and removed litter that was left on the ground by other mountain users. At the same time the youth approached other mountain users to encourage them to respect the mountains, to 'leave no trace' and to dispose of their excess waste in the appropriate bins provided. The distribution of mini rubbish bins, which fit into the pocket of mountain users for sweet wrappers, cigarette butts and chewing gum, also took place. This voluntary service to raise mountain awareness and engage other mountain users was highly successful across a wide area of Le Grand Massif resort.
The youth returned to base camp for a hearty mountain lunch produced from delicious local ingredients, prizes were given and one youth group rapped a song they had written about respecting the mountains. It was an inspiring presentation and displayed the deeper level of conservation knowledge. In the afternoon, outdoor skills clinics were taught and facilitated by professional mountain guides in free ride skiing or basic avalanche awareness training. These two hour clinics, gave the youth the opportunity to work hands on with the avalanche safety tools such as a transceiver, probe, shovel and backpack and put them to use. The day came to a close with the viewing of Respect the Mountains Ambassador and The North Face athlete Xavier de le Rue's most recent film 'Mission Antarctica' which inspired the youth.
Despite twenty centimeters of snow falling throughout the event, the goals of the event were achieved and Respect the Mountains looks forward to continuing with this youth program.
Images courtesy Respect the Mountains