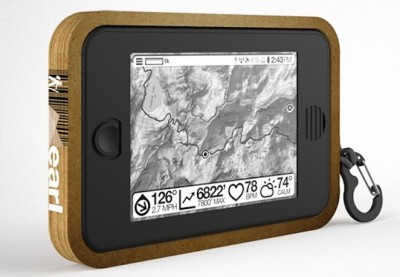 Meet Earl, your newest survival gadget. This revolutionary new technology will put your smartphone to shame with a design specifically for use in the outdoors. The project first received media coverage early last year, when Earl's creator, Jon, asked for help funding the project through an online crowd-funding campaign. The project exploded, exceeding the original goal by almost triple its target funds, and allowed the Earl team to grow and continue to improve the design.
The idea for Earl was spurred by a journey into the Russian wilderness in which Jon was required to carry many different gadgets, ranging in age and size. He realized there was a gap in the market; outdoor adventurers needed an electronic device that could travel with them and provide a variety of services, while still being extremely durable.
The result was Earl. Named after his greyhound, this tablet is impressive to say the least. Thanks to a state-of-the-art GPS chip, Earl can plot your precise location, direction, and elevation. It can also tune into AM/FM/SW/LW radio, and work as a glorified walkie-talkie, with a range of about 20 miles. Complete with access to Android apps and the internet, Earl provides complete access to 300,000 trail maps and can accurately track the weather because of the integration of weather sensors (thermometer, hygrometer, barometer, and anemometer).
If you're not yet convinced, consider the fact that Earl is probably the toughest tablet on the market. The shell can withstand a two-meter drop as well as 60 minutes under up to two meters of water. Earl takes elevation and weather drops in stride as well, handling altitudes up to 40,000 feet, and operating in temperatures ranging from 0-50 °C with ease. And because you never know what you might encounter, Earl is completely water, dust, shock, and mud proof.
As previously mentioned, Earl is Android powered to provide extended battery life. But if you are caught in the middle of the mountain, unable to get to a USB plug, there's no need to worry. The back of Earl is complete with monocrystalline solar cells that provide a full charge in about five hours of sun exposure.
Earl is in the final stages of design, and set to be released within the next year. To pre-order the device, visit the Meet Earl website.
Image courtesy of the Meet Earl Team