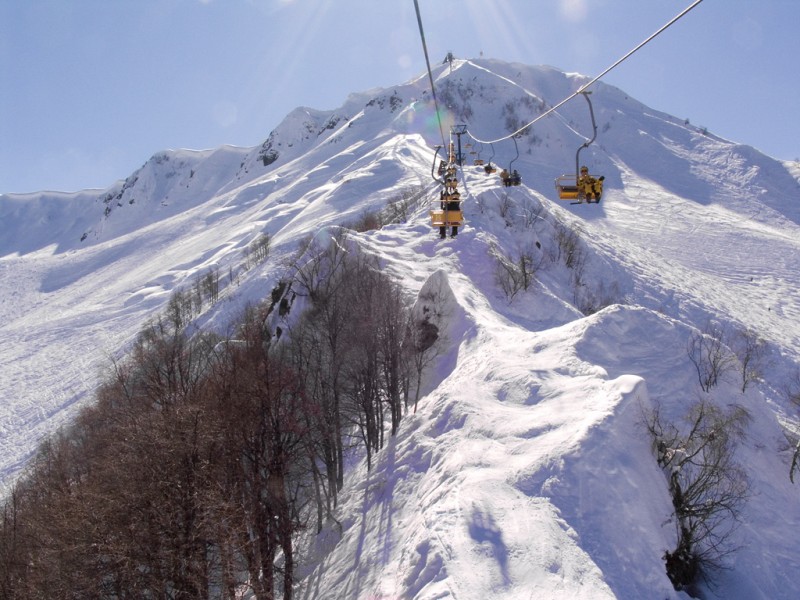 Vic Wild learned to snowboard in his hometown of White Salmon, Washington.
With enough practice and dedication, he soon started riding competitively.
Wild was talented enough to compete in Parallel Giant Slalom and Parallel Slalom in the Winter Olympic Games, but one problem arose. In the United States, focus is placed on Halfpipe and Slopestyle events rather than those he excelled at, making it a huge challenge to receive the proper funding and training necessary to compete in the Olympics.
In 2011, he ended his competitive career with frustration.
"I wasn't going to continue banging my head against the wall," Wild, 27, told The Wall Street Journal.
But things changed when Wild married his Russian snowboarder girlfriend, Alonya Zavarzina, obtaining Russian citizenship along the way. His marriage ended up opening new doors in his snowboarding career, as Russia had the resources to train athletes for the snowboarding events he was interested in.
"I told everybody in the Russian Snowboard Federation: If you guys take me, you'll never regret it," Wild told NBC.
It wasn't long before Wild moved to Moscow to begin training—the kind that was never available to him in the States. In Sochi, there was only one American athlete who competed in the men's Parallel Giant Slalom event on Wednesday, and none were entered in the women's event.
The move turned out to be a good one for Wild, as he won gold in the event this year.
His wife was also successful in the Games, as she won bronze in the women's version of the event.
"It's incredible to win it along with Alena," Wild told ESPN. "We're together all the time. If one of us has success and one of us doesn't, it's great—but it's not that great. For us [both] to have success, it's truly incredible. I don't know how this happened. It's too good to be true."
"Russia is the country that's given me the opportunity to win," he continued. "If I was still riding for [the US], I'd still be back home, with a mediocre job doing something mediocre. That's not what I wanted to be."
After Wild's win, fellow snowboarders as well as US Snowboarding showed support.
"The way the U.S. treated Vic, I can't blame him at all," Canadian snowboarder Jasey-Jay Anderson told reporters. "It's a huge move for an athlete to do that."
The US Snowboarding Twitter account tweeted, "Congrats to Vic Wild on his PGS gold. We have always respected Vic's decision to ride for Russia & are happy for his success in #Sochi."
Image from Lite on the Wikimedia Commons