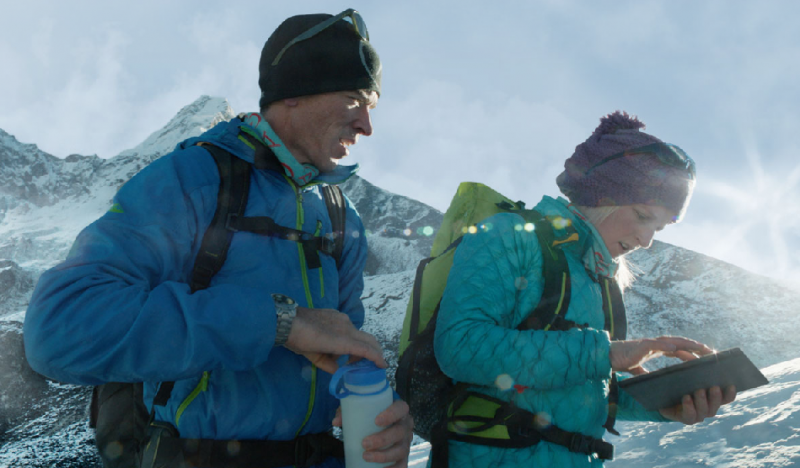 Apple's "Your Verse" campaign is an expansion of the "Life on iPad" video that was released at the launch of the iPad Air, which is seeking to profile those who are using the product in real life. The second vignette of the campaign highlights how the product is used by professional mountain climbers Adrian Ballinger and Emily Harrington.
The pair uses the Gaia GPS topography app on the iPad to assist in planning climbs, studying the environment, mapping routes, and figuring out the best place to camp.
"Five years ago, it was hard to even get a paper map of these places," Ballinger said. "Now with the iPad it's remarkable how much we can plan ahead."
He said they also use the iPad to post on their blog, share photos, and connect with friends and followers through social media. One of the most important features the product provides is its ability to verify a climb for either government agencies or mountaineering organizations through the chronicling of a trip.
"In exploring frigid and unforgiving altitudes that most humans visit only in the comfort of a pressurized jet cabin, one piece of equipment has become essential to them: their iPad," reads the website.
With the iPad trips are now much safer, which allows the team to explore new routes, Ballinger said.
The "Your Verse" video below features a voiceover by Robin Williams reading a monologue from the movie Dead Poets Society. The video's description reads, "The passage highlights 'poetry, beauty, romance, love; the are what we stay alive for' and the 'powerful play' of life of which Walt Whitman wrote 'you may contribute a verse.'"
It ends by asking, "What will your verse be?"
Check out the campaign video below.
Image is screenshot from video by Apple on YouTube