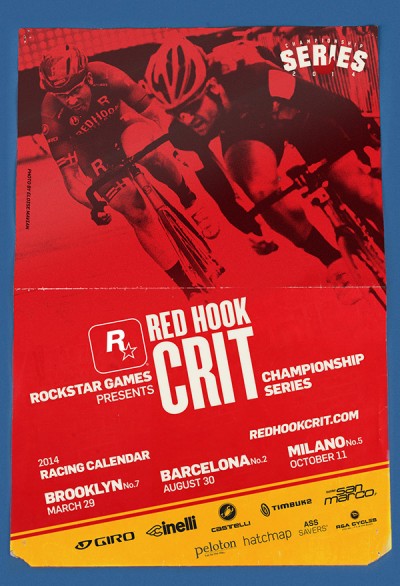 Rockstar Games is proud to once again present the Red Hook Criterium Championship Series (RHC) in 2014 as the principal sponsor.
Heralded by ESPN as "the greatest bicycle race in America," The Red Hook Criterium Championship Series begins at The Brooklyn Cruise Terminal, New York on Saturday, March 29, 2014. From there, the three-part series continues to the spectacular waterfront circuit in Barcelona, Spain, culminating in the championship finale around the iconic streets of Milan, Italy.
"2013 was a huge year for the development of the Red Hook Crit and we're thrilled to be supporting the series again in 2014," said Simon Ramsey, Head of Public Relations at Rockstar Games. "Cycling is a passion and a way of life for many of the team at Rockstar and contributing to the growth of this world-class series continues to be an honor."
Over the past seven years, the Red Hook Criterium has rapidly established itself as one of the most exciting cycling races in the world. Expanding into a continuous international race series in 2013, the RHC attracts pro road racers, track specialists, bike messengers and urban athletes who compete over multiple laps around a short, technical circuit on highly specified track bikes, where riders need to demonstrate both street-tuned handling skills and unrivaled athleticism to be in contention for a place on the podium.
For the first time in the series' history, 2014 will see a separate race for female competitors throughout the championship directed by Kacey Manderfield Lloyd, winner of the inaugural 2008 Red Hook Crit and highest female finisher in every race since.
"The Red Hook Criterium has grown to a point where a women's field makes a lot of sense," added Kacey. "We can't wait to give the ladies a stage to put on a spectacular show."
Additionally, both the Brooklyn and Barcelona rounds will host a 5-km running race on the same date, on the same circuit, and in the same spirit as the cycling criterium.
With a revamped, compact three-race schedule, each event will carry more weight in the championship, increasing the pressure on the riders to perform consistently. Each event will feature a host of new improvements for spectators and riders alike, and an increased prize list and continually rising prestige will make each podium spot fiercely contested.
In 2013, the RHC attracted record numbers of competitors and crowds of over 25,000 cementing its place as the most exciting, technical and dynamic series on the international racing calendar; 2014 is set to be even bigger.
2014 SCHEDULE:
March 29: Red Hook Criterium Brooklyn, New York;
August 30: Red Hook Criterium Barcelona, Spain;
October 11: Red Hook Criterium Milan, Italy.
A strong list of supporting series sponsors in 2014 include Giro Sport Design, Cinelli, Castelli Cycling, Timbuk2, hatchMAP, San Marco, Ass Savers, Peloton Magazine and R&A Cycles.
Image courtesy Rockstar Games