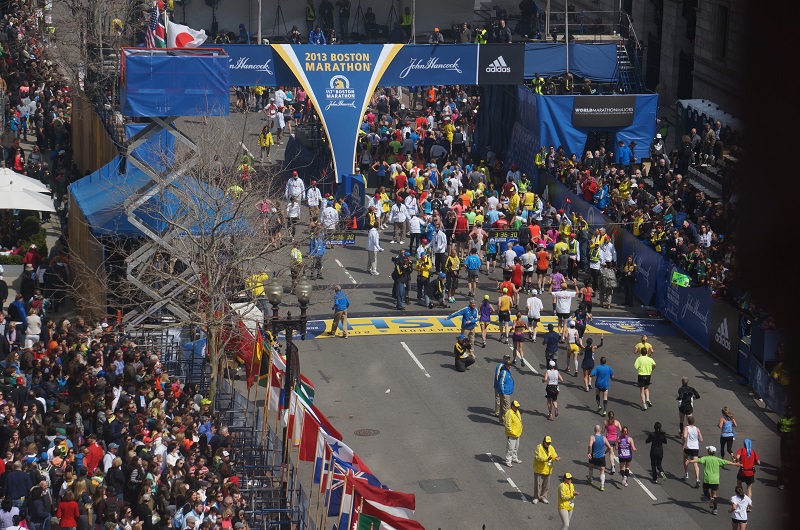 The Boston Marathon is still a good two months away, but because of the tragedies of last year's event it is already getting a lot of attention. Last week, the mayor of Boston announced a number of events that will surround this year's race, including not only a tribute gathering, but also a feature documentary.
With the help of One Fund Boston, the charity that was started to aid victims of the attack, and the Boston Athletic Association, the tribute event seeks to honor all the victims of the bombings. This includes not only the three people killed and more than 260 injured, but also all the first responders and victim's families. Though access to event at the Hynes Convention Center is only available by invitation, the announcement made it clear that this year's race will be one of the most watched and celebrated events of the running season.
"On April 15, we recall the courage, compassion, and commitment of our great city and its people," Boston Mayor Martin J. Walsh told the press. "Through this event, Boston again stands as one: paying tribute to all those affected by last year's events and once again showing the world that Boston's spirit of resiliency lives on."
Massachusetts Governor Deval L. Patrick echoed his sentiments by saying, "as a community, we were put to the ultimate test by the events at last year's Boston Marathon, but we rose to the occasion: turning to each other, rather than against, and showing the world what a strong community looks like. Though we all had our lives affected in profoundly different ways, this tribute will show the world again that we stand as one."
In a similar way, Director Jon Dunham has taken on the project of a full-length documentary about the iconic race, in the hopes of not only showing the resiliency of the city, but its pride. The film, under the working name Boston, is set to be released in late 2015. Dunham is well known for his running films, having previously earned acclaim for Spirit of the Marathon and Spirit of the Marathon II.
The marathoner expressed his excitement about taking on this new project to the Runners World Newswire by saying, "Boston has always represented the ultimate to me, and I intend to do justice to the race's history and to everyone who has ever run it."
Boston will take viewers through a history of the iconic race, with a focus on the 2014 events. Its main footage will be shot during this year's race on April 21, following the marathoners closely, and weaving in the events of last April.
"This isn't going to be a movie about the bombs," Dunham explained. "It's going to be about the organizers, the special volunteers, the people along the course, and particularly about the runners and their personal quests at Boston."
Learn more about the project at the movie's website.
Image courtesy wikimedia commons user Ragesoss