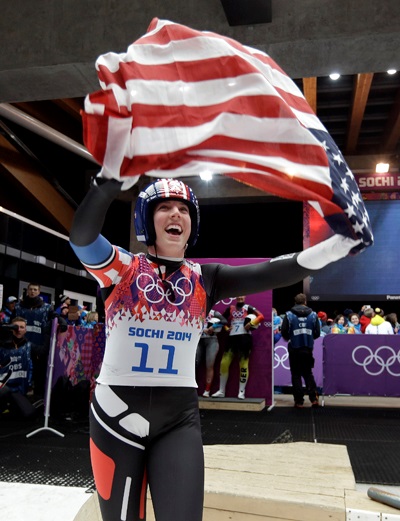 Erin Hamlin finished her finals run in 3:21.145 to take the bronze medal on Tuesday, Feb. 11, in Sochi, Russia, becoming the first American athlete to win a medal in the singles luge in the sport's 50-year history in the Winter Games.
"We are intensely proud to have one of our CW-X athletes win a medal at the Sochi Games," said John L.A. Wilson, president and chief operating officer of the Wacoal Sports Science Corporation. "The fact that she's not only the first American to win a singles luge medal, but the first woman to win any individual luge medal at all for the USA makes us doubly happy for Erin. Bravo!"
Hamlin, 27, of Remsen, New York, placed behind the pair of Natalie Geisenberger and Tatjana Huefner of Germany, and ahead of Alex Gough of Canada. Hamlin was previously world champion in 2009, finished in 12th place in singles luge during the Games in Turin, and 16th in Vancouver four years ago.
CW-X is the official performance base layer supplier of USA Luge, an agreement that first began in 2006. The entire team was supplied with the CW-X Insulator Web Top, Insulator PerformX Tights, and the StabilyX Coolmax Tights for training and competition.
Image courtesy Wacoal Sports Science and CW-X