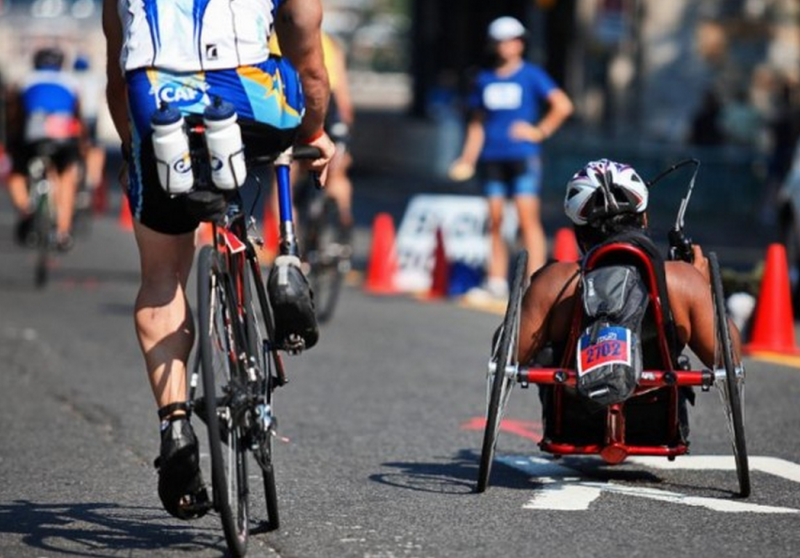 It was recently announced that after approval from the USA Triathlon Board of Directors, the USA Triathlon will now include a Physically Challenged (PC) Open Division for athletes who are unable to meet classification or equipment requirements.
The rulebook for the triathlon has been modified, and the PC Open Division official language will be applicable to anyone who is participating in 2014 USA Triathlon-sanctioned events. These new rules will allow athletes with Americans with Disabilities Act-defined disabilities who may not fall within a paratriathlon classification, or are unable to abide by the equipment usage rules of paratriathlons.
According to the news release, the PC Open Division is available to athletes with a medically-verified physical, visual, or neurological impairment that substantially limits one or more major life activity.
"By defining the PC Open Division and its guidelines in our rulebook, we are able to be more inclusive for all paratriathletes who may want to become involved in the sport," Charlie Crawford, USA Triathlon's Commissioner of Officials, said in a news release. "Paratriathlon is strictly defined by the rules of each classification category, but USA Triathlon wants to be welcoming of any athlete with a disability and as we've looked for ways to offer those opportunities, this has been the best option for us to include as many athletes as possible."
While the PC Open Division has been available at several events since 2010, this is the first time the USA Triathlon rulebook will be in line with the International Triathlon Union's official rules for paratriathlon competition. The ITU will release a paratriathlon classification system, which will begin in 2014.
The USA Triathlon board is hoping this change will allow more athletes to compete, bringing in new talent ahead of the Rio 2016 Paralympic Games, where paratriathlon will debut as an event.
For more information, visit the USA Paratriathlon website.
Image courtesy of USA Triathlon