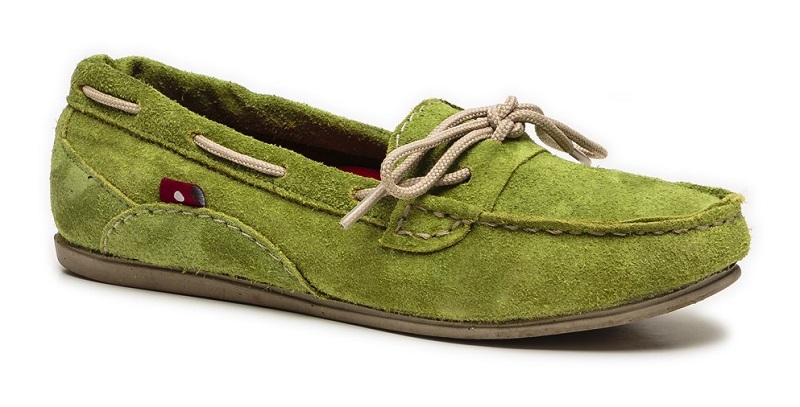 Oliberté, maker of high-quality leather shoes in the world's first Fair Trade Certified footwear factory located in Africa, is launching its most extensive line of new footwear ever this spring, including four new styles for men and six for women inspired by Africa's vibrant culture and colorful fashions. Every item features hand-finished detailing and stitching, making each pair of shoes and every wallet and bag slightly unique. Oliberté's workmanship (backed with a lifetime guarantee) and commitment to creating sustainable jobs in Sub-Saharan African is captured in this new brand video: http://youtu.be/YbsJaXiBN1s

"All of our shoes and boots for men and women have historically featured traditional African stitch-down construction, but this spring's new line is the first time we've offered women's casual shoes with a slimmer profile and more vibrant color options," says Tal Dehtiar, founder of Oliberté.
Oliberté's spring 2014 line of casual footwear features sustainably sourced premium suede, pull-up, nubuck or waxed-leather uppers dyed brilliant pink, and lakeview blue or sky blue for women (in addition to traditional tan, dark grey, rustic brown, mocha or black). All Oliberté shoes feature ultra-soft goat-skin lining and in recognition of their origins, the new women's styles feature a map of Africa imprinted on the shoes' all-natural crepe rubber outsole and on the cushioning OrthoLite insole.
Featured Women's Styles
The Blanca ($105) is a wingtip smoking slipper available in four colors, while the Mbozi ($105) features traditional African-style hand-stitched detailing. The Niami ($115), pictured here in lemon suede, is a moccasin-style boat shoe with a natural crepe-rubber outsole, while the Ralini ($110) is a classic smoking slipper embellished with a handcrafted toe fringe.
Featured Men's Styles
The men's collection expands on Oliberté's wide selection of casual, rugged boot styles with several new shoes. A highlight in the men's collection is the Lomayo ($125), a casual boat shoe featuring traditional African stitchdown construction, premium leather upper, goat leather lining and a natural crepe rubber outsole printed with a map of Ethiopia. The Dubano ($120) is a casual driving moccasin with two-hole lacing, while the Sogal ($110) is an easy-to-slip-on casual espadrille, and the Tuomi ($115) is a rugged moccasin with suede upper.
Sustainably Manufactured Bags and Wallets
The Gymano ($300) is a hand-crafted leather overnight bag sustainably manufactured in Ethiopia. Measuring 23 inches long and 10 inches wide, this spacious duffel has a large main compartment for your travel essentials, plus two side pockets. The Yezu ($230) is a soft-sided leather briefcase with casual-yet-sophisticated styling. Its spacious interior accommodates a 13-inch laptop plus accessories, while the horizontal side pocket is ideal for storing pens, an e-reader, a notebook and other small items. The 24-inch leather carrying straps can be used for toting this bag in-hand or over the shoulder. The Bazbo ($45) is a slim, hand-stitched bi-fold passport case with five card-holder slots.
Oliberté's spring 2014 footwear line for men and women, all proudly displaying the Fair Trade Certified Factory logo, will be available at select retailers throughout North America and overseas, and on www.oliberte.com starting in February 2014.
Images courtesy Oliberté