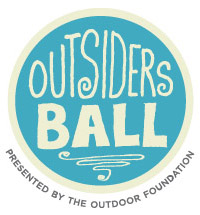 The Outdoor Foundation, the charitable arm of the Outdoor Industry Association, is proud to announce Periscope, a full-spectrum impact agency based in Minneapolis, Minnesota, has come on board as the pro bono agency of record for the Outsiders Ball. Recognized as one of the nation's most creative firms, Periscope is supporting every aspect of the event — from soup to nuts — setting the tone for an unforgettable and eclectic evening.  Last week, the agency launched the new website outsidersball.org – a key resource for all things Outsiders Ball leading up to the 2014 event.
In addition, Periscope's CEO Greg Kurowski has joined the board of directors for the Outdoor Foundation. In his role as CEO, Kurowski has grown Periscope into one of the nation's largest and most successful independent creative companies. As a 29-year marketing veteran, he brings a rich history of excellence in strategic branding to The Outdoor Foundation's advisory team.
"We're jazzed to be a part of this–it's the perfect storm of a great cause in a great category working with great people," said Kurowski.
"We are thrilled to have the support of Greg on our board and the creative genius of Periscope as our agency of record for the Outsiders Ball," said Chris Fanning, executive director of the Outdoor Foundation. "Thanks to Greg and the team's generous support, we believe the important work of the Outdoor Foundation will be shared and elevated to the next level — ultimately getting more young people outside and building a stronger Outdoor Nation."
The Outdoor Foundation's Outsiders Ball will take place on August 5th, the eve of Outdoor Retailer Summer Market at the Gallivan Center in downtown Salt Lake City. This is the 'party for a purpose', tackling the Outdoor Industry's biggest challenge, the growing divide between young people and nature. Building on the success of last summer's inaugural event, the Ball will support local retailer's community projects – driving both business and participation.
Last year, thanks to the generous support of sponsoring companies, industry leaders, and Ball attendees, the event hit it out of the park – raising almost $400,000, investing in 100 nonprofit projects across the country and supporting Outdoor Nation. The expected return: 20,000 youth engaged in outdoor activities.  In 2014, the Foundation is raising the stakes, calling on every industry member – from executives to associates to interns — to join together and party for a purpose. The goal is to raise $500,000 and engage thousands of youth in outdoor recreation. Sponsorship opportunities for Outsiders Ball are available — for more information, visit outsidersball.org or email Chris Fanning at [email protected].
Logo courtesy Outdoor Foundation