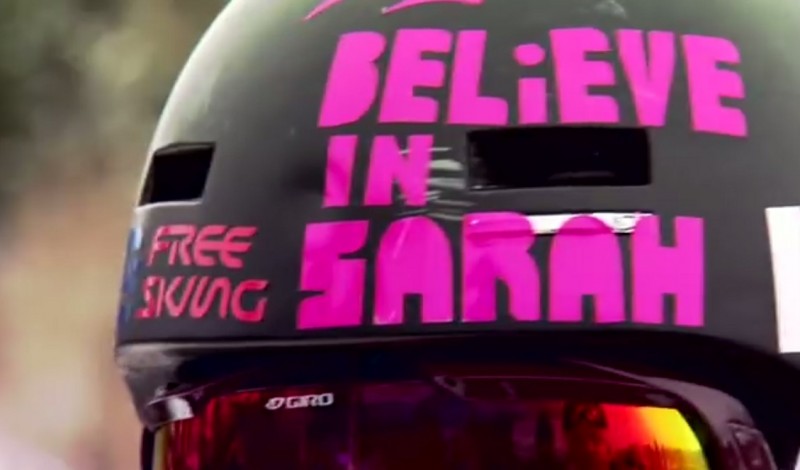 Two years ago, the death of up-and-coming Canadian free-skier Sarah Burke devastated the skiing community. A young talent and powerful force both on and off the snow, Burke passed away after sustaining injuries while training for the 2010 Olympics in Park City, Utah.
Previously, Sarah had led the movement for inclusion of the women's halfpipe in the Winter Olympics. When it was announced that this year's Games would include the sport, many athletes wished to don stickers on their gear in her honor. "Sarah is a beautiful, talented, powerful women, (whose) spirit inspires me still," Australian snowboarder Tora Bright explained on Facebook. "She is a big reason why skier pipe/slope are now Olympic events."
But this weekend the IOC has decided to put an end to this moving tribute. In hopes of maintaining the "celebratory spirit" of the Olympics, the IOC has demanded all stickers be removed or covered.
"For us it is a question of what is appropriate," IOC spokesman Mark Adams explained to Reuters. "We have, as with a lot of the athletes here, huge sympathy. She really needs to be well remembered […] and absolutely, we want to help the athletes to remember her in some way […] The competitions themselves, which are a place of celebration, are probably not the right place to really do that and we like to keep that separate."
Since then, the skiing community has been in uproar. Many people, especially Canadians, have attacked the IOC via social media. Bright shared her anger via Instagram. "I ride with a Sarah sticker on my snowboard and helmet always," she said "The IOC, however, consider Sarah stickers 'a political statement' and have banned them. Wow."
Notably, this ban of "political propaganda" also led to a confrontation with the Norwegian cross-country team, which had sported black armbands in memory of the Astrid Uhrenholdt Jacobsen, who died a day before the Games.
Check out a video tribute to the Sarah courtesy of the X Games:
Image and video courtesy X Games Youtube