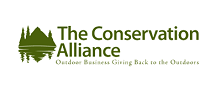 The Conservation Alliance announces 15 new outdoor industry member companies since August 2013. This growth strengthens the organization as conservation opportunities flourish throughout the U.S. and Canada.
The new members include: AllAboutRivers.com; Backwoods; Brook Hopper Consulting; Eagles Nest Outfitters, Inc.; Eddie Bauer; Elemental Herbs; eNRG Kayaking; Farm to Feet; Flylow Gear; Greenspace; Hydro Flask; Medved Running and Walking Outfitters; New Balance; Northwest Rafting Co.; and WorthWild, LLC.
Each company joins at a time when The Conservation Alliance is focused on recruiting as many industry companies as possible. Each member company pays annual dues into a central fund, and the Alliance donates those funds to grassroots conservation organizations. The Alliance plans to donate $1.65 million in 2014, an increase of $150,000 from 2013.
"We continue to attract great companies, large and small, to our organization," said John Sterling, Conservation Alliance Executive Director. "We are pleased that our new members include retailers; manufacturers of outdoor apparel, footwear, and equipment; outfitters; and consultants. We take this growth as a sign that brands value our model of companies working together to protect the wild places so important to their customers."
"We are proud to maintain such a diverse membership of companies that comprise the outdoor industry," said Sterling. "Conservation is one issue that most brands in the industry agree is a top priority. Together, we'll save many special wild places."
Logo courtesy The Conservation Alliance