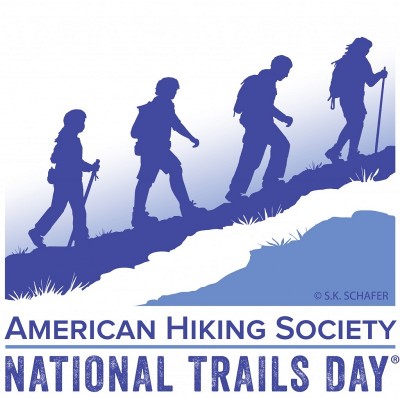 American Hiking Society's annual celebration of trails and outdoor adventure, National Trails Day, offers people of all ages and abilities the chance to explore unique places and sample new outdoor activities such as hiking, horseback riding and canoeing. Thousands of organizations all across the country host awesome events that turn participants of all ages into wide-eyed adventurers. Last year, participants discovered breathtaking scenery and exciting challenges hiking Utah's Indian Wasatch Mountains, whitewater paddling on Rapid Creek, South Dakota, and bicycling the newly opened Cowboy Trail in Nebraska.
Event hosts all around the country presented amazing new experiences to event attendees, even at frequently visited destinations. Sugar Grove Nature Center in McLean, Illinois, hosted guided hikes, seminars, informational booths and other fun activities on National Trails Day. Visitors were excited by the opportunity to participate in guided hikes."We come to Sugar Grove Nature Center often, but had never explored the trails." said one participant. "We were so surprised to learn of all the things to see and do in Funks Grove and will be back soon with friends."
National Trails Day offers events for people of all ages and skill levels. To learn more about 2014 National Trails Day adventures, just visit www.AmericanHiking.org/National-Trails-Day/.
National Trails Day is made possible by the generous support of Corporate Sponsors – Adventure Medical Kits, Columbia, Gregory, Tilley Endurables, and The North Face, as well as Supporters – America's State Parks, American Park Network, Backpacker magazine, Boy Scouts of America, and REI, and Federal Partners – the Bureau of Land Management, Federal Highway Administration, National Park Service, USDA Forest Service, and U.S. Fish and Wildlife Service.
Logo courtesy American Hiking Society