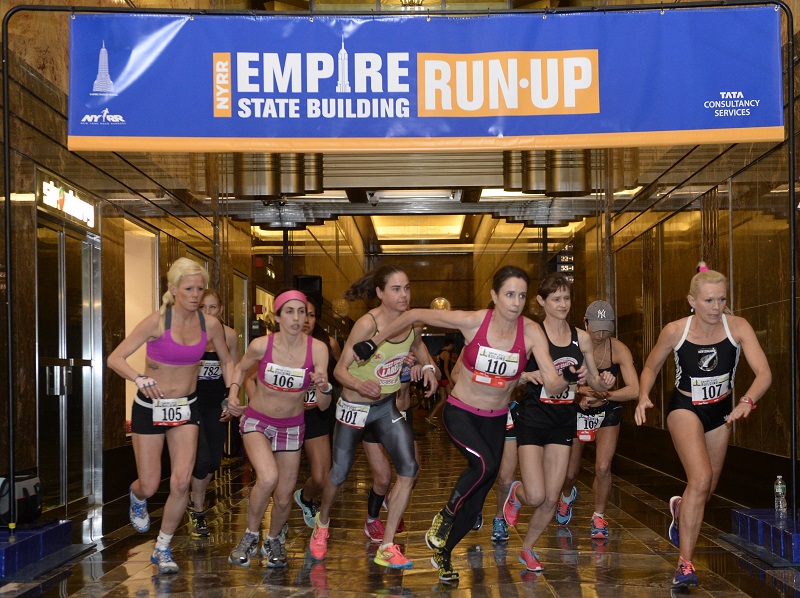 On Wednesday, while most of us barricaded ourselves inside for warmth, more than 400 of tower running's elite athletes prepared to ascend 1,576 stairs to the top of the Empire State building. Already billed as the most popular stair running event, this year's 37th annual Empire State Building Run-Up was one for the record books.
Australian Suzy Walsh delivered an impressive performance, climbing the 86 floors in 11:57 and securing her fifth event win. The 40-year-old previously won the event in 2007, 2008, 2009 and 2013, but this year's win has placed her in the record books. Not only has she won the event more than any other woman in history, she also beat her previous times and was able to break the 12-minute barrier for the first time since Andrea Mayr set the course record in 2006.
"I'm so excited," Walsham told reporters after she crossed the finish line. "That was a goal of mine coming here. No other female has won it more than four times so I wanted to be the first and I am really proud of that record."
California native Erika Aklufi completed the climb second, crossing the finish line a whole 50 seconds behind Walsh.
The men's event was also full of excitement, with first time winner Thorbjørn Ludvigsen from Norway just barely edging out last year's champion Darren Wilson from Australia. The two were neck and neck until the 71st floor, where Ludvigsen was able to gather the strength to pass Wilson. His 10:06 finish was only 15 seconds ahead of second place, Wilson.
"It's been one of my goals this season [to win]," said Ludvigsen, who will tackle Spain's Zegama race next. "It was a good fight."
Just as notable as the wins, this year's Run-Up raised more than $800,000 for the Multiple Myeloma Research Foundation (MMRF) thanks to the efforts of 183 runners. "Running up tall buildings is hard work, just like it's hard work living with this disease," MMRF's director of endurance events, Alicia O'Neill, said at the event. "The money you raise, and the attention you bring to this cause, mean so much."
Images courtesy NYRR