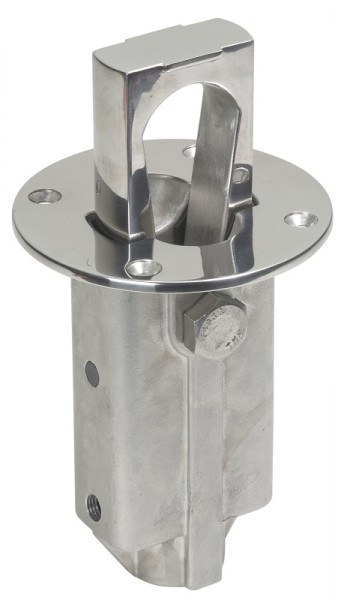 A lifting eye is a marine workhorse. The Extra-Large Round Lifting Eye from Accon Marine proves that such utilitarian equipment can offer polished good looks as well as strength.
Constructed of a combination of 316 and 304 stainless steel, the Accon Lifting Eye features a solid cast sling for extra sturdiness and durability. In independent lab testing with grade 8 bolts, the bolts failed at 36,000 lbs. with the Accon unit still in useable condition.
Requiring only a 3-1/4″ diameter hole, the Lifting Eye attaches to a deck with four 1/4″ screws for quick and simple installation. Standard rod length is 12″, with other rod lengths available on request.
The complete Extra-Large Round Lifting Eye assembly with all hardware included retails for $428.57. Individual parts, including rod, bow eye, sling, sling cross bar and lift eye with base, are available separately, starting at $18.03. Accon also sells smaller Round and Oval Lifting Eyes. Each can accommodate a maximum load of 4,000 lbs. in the direction of the axis of the threaded rod shank.
Known for its superior quality precision metal work, Accon Marine is a family owned and operated company. Accon seeks to offer the industry's most innovative hardware and accessories, as well as excellent customer service and support.
Image courtesy Accon Marine