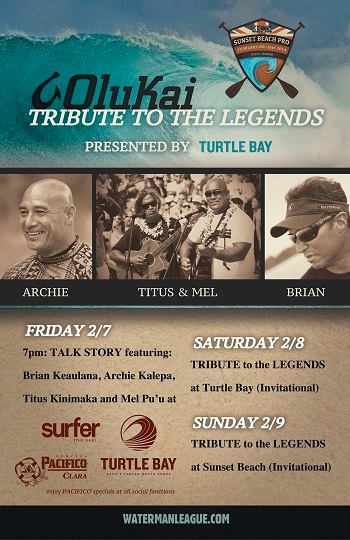 As a brand dedicated to creating the future by honoring the past, OluKai is pleased to announce its title partnership of "Tribute to the Legends" at Turtle Bay Resort on Oahu's North Shore this weekend, February 7-9, 2014. The event's festivities will honor the achievements of legendary Hawaiian Watermen, Brian Keaulana, Mel Pu'u, Titus Kinkimaka and OluKai Konohiki (caretaker) Archie Kalepa, who have all paved the way for the modern multidisciplinary nature within ocean sports.
As the official title partner, OluKai will support the kick-off of the 2014 Standup World Tour through various onsite activations. The events festivities will begin with a cultural opening ceremony to the Sunset Beach Pro, featuring a traditional Pule (prayer) by Tom 'Pohaku' Stone. Following, Mel Pu'u and Titus Kinkimaka will entertain the crowd with two musical performances at both the poolside Hang Ten Bar and later that evening at Surfer, The Bar. The evening's main event will be a special 'Talk Story', a modern Hawaiian expression meaning to simply spend time with one another while sharing stories of one's life, held at Surfer, The Bar. The Talk Story format will be causal and entertaining as the legends discuss the origins of SUP, as well as allowing the audience a rare look into their extraordinary lives. Friday's opening events will end with performances by special musical guests Paula Fuga and Mike Love.
Saturday will see the legends passing their knowledge to the next generation as they help lead the Na Kama Kai youth clinic with founder Duane De Soto. The clinic will feature both on and off-water demonstrations, traditional Hawaiian storytelling and traditional Alaia board shaping with Pohaku, giving both local and visiting youths under 16 a chance to learn the knowledge of watermen culture from those who have helped to shape it into what it is today. Depending on conditions, the afternoon will feature a surfing exhibition from the four legends at either Turtle Bay or Sunset Beach. Sunday's exhibitions will then determine a winner for both honor and bragging rights as the legend among legends.
"By supporting the Tribute to Legends we honor true pioneers of modern ocean sport and the passing of knowledge of these legendary watermen to our youth and surrounding community," says Kerry Konrady, director of marketing.  "We are thrilled to not just be a part of this tribute but to also support OluKai konohiki and legendary watermen, Archie Kalepa."
Image courtesy OluKai