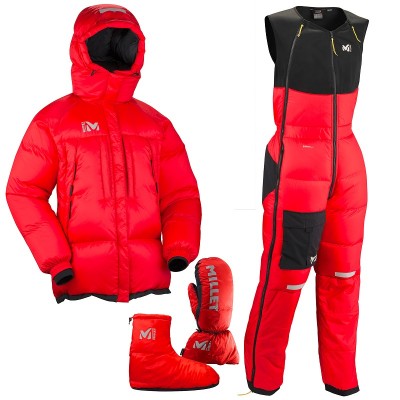 In partnership with Aspen Aerogel, Aerotherm specializes in the further processing of Aerogel material making it suitable for thermal applications to be used in Outdoor Apparel, Footwear and Gear products. Aerotherm designs and develops custom insulation applications and products for the outdoor consumer goods. Aerotherm aerogel insulation is tested and proven the world's most advanced Thermal insulation protection used in extreme environments, both hot and cold.
Below are two Aerotherm products that won 2014 ISPO Awards:
Millet – 2014 ISPO Award Featuring AeroTherm
Patented model with original construction, high tech insulation, and high protection for any expedition: Pertex endurance outer, DOWNTEK water-repellent down combined with Primaloft for insulation, the high tech AEROGEL panels derived from aerospace research, and bib with easy way opening system, long jacket with baffle construction, integral hyper protective hood. With front opening for ventilation, combined with fly opening and drop seat opening.
Peak Performance Heli AERO Jacket – 2014 ISPO Award Featuring AeroTherm
This midlayer combines two powerful insulation: Aerotherm and Thermo Cool.The Aerotherm essays on the chest, upper back and arms offer up to eight times better thermal properties than other materials, do not require a volume to warm, are extremely light and insensitivity to moisture. A mixture of Thermo Cool and jersey ensures efficient heat performance, comfort and breathability.
Images courtesy Aerotherm