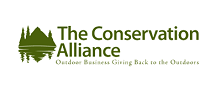 Scott Whipps, director of sports retail for Clif Bar & Company, became the new chair of The Conservation Alliance Board of Directors during Outdoor Retailer Winter Market 2014. Whipps succeeds outgoing chair Angela Owen, who represented REI on the board since 2007.
For the past year, Whipps has served as chair of the Alliance's Board Recruitment Committee, charged with bringing new members into the organization. The Alliance board identified him as Owen's successor last summer.
"We will miss Angela's solid presence on the board, but look forward to benefiting from Scott's proven leadership and vision," said Conservation Alliance Executive Director John Sterling. "We work hard on succession planning, and expect a smooth transition."
Whipps takes the reins at the beginning of The Conservation Alliance's 25th anniversary year. The organization will focus extra energy moving forward on adding new members and growing its grant fund to support conservation organizations.
"It is an honor to chair The Conservation Alliance Board of Directors," said Whipps. "I look forward to furthering the Alliance's innovative programs and collaborating with partners across the outdoor industry to protect the places we play. Joining The Conservation Alliance is one of the best ways for an outdoor company to participate in conservation efforts."
Clif Bar & Company is one of The Conservation Alliance's Pinnacle Members, companies that contribute at least $100,000 annually to the organization.
Since its inception in 1989, the Alliance has contributed nearly $13 million to grassroots conservation groups. Alliance funding has helped save more than 42 million acres of wildlands; protect 2,748 miles of rivers; stop or remove 25 dams; designate five marine reserves; and purchase nine climbing areas.
The Conservation Alliance will celebrate its 25th anniversary on August 7 at Outdoor Retailer Summer Market 2014 in Salt Lake City. The celebration will include a retrospective of the Alliance's history, and live music by the Infamous Stringdusters.
Logo courtesy The Conservation Alliance