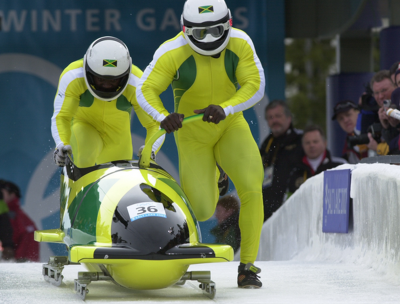 The Jamaican Bobsled Team made headlines recently when several crowd-funding campaigns sought to send the team to the Winter Olympic Games in Sochi, Russia after it was announced they were unable to pay their way.
After enough money was raised, the team—driver Winston Watts, 46, and brakeman Marvin Dixon, 28—began to prepare to compete in Sochi, which will end their 12-year absence from the Winter Olympic Games. But on the way to Sochi, their equipment was lost and they missed the first training session.
"It's really frustrating," Watts told the BBC. "We have just got all the funding together and have arrived at the Olympics—but then this happens.
"The sled is here, but our blades that go on the sled aren't and neither is the clothing that we wear when we slide."
Watts competed at the 1994, 1998 and 2002 Winter Olympics.
"This is a very new track for everyone and I'm not really happy about missing today," Watts continued. "We will have maybe three more sessions—six runs in total and I'm confident we will take part in those because we have a lot of friends here and I'm sure people will lend us what we need."
Image courtesy of the Jamaican Bobsled Team website