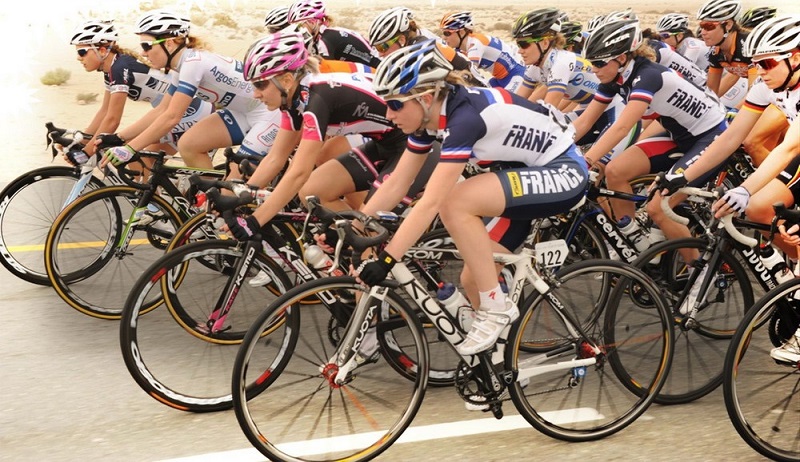 Last weekend, the cycling world broke a huge gender barrier when the Amaury Sport Organisation (ASO) announced the addition of a women's race to this year's Tour de France. For the first time, elite female cyclists will be given the opportunity to participate in a one-day women's event, La Course, alongside the final stages of the Tour.
The decision came after a strong push from an organization of women racers led by Olympic gold medalist Marianne Vos, pro cyclists Emma Pooley and Kathyrn Bertine, and retired Ironman triathlon champion Chrissie Wellington. The group, called Le Tour Entier or "The Whole Tour," started an online petition last September in hopes of creating such an event. The movement gained more than 100,000 online signatures over the past few months and prompted the ASO's decision to add La Course to the Tour's events.
La Course will be held on July 27, just a few hours prior to the arrival of the men's peloton in Paris. The women will tackle the same course as the men, fighting for a first-place finish on the iconic Champs-Elysées. Adding to the hype, the event will also receive full live coverage on France Télévisions and Eurosport International.
The announcement of La Course marks a huge step forward for women's cycling.
"The launch of this race is a revolutionary development in our sport," Vos told the press. "The Tour is the pinnacle of professional cycling, and I have no doubt that La Course by Le Tour identifies a new era for women's cycling and will significantly contribute to the growth of road racing."
Unlike other women's races hosted by the ASO, La Course's full media coverage and Paris platform will provide a great showcase for sponsors.
Newly-elected UCI President Brian Cookson expressed his excitement by saying, "The UCI is committed to support the development of women's cycling and following my election to the UCI presidency in 2013, we established a Women's Commission to focus our efforts here. The quality of professional women's road racing has long deserved a wider audience, and we are very happy that this initiative by ASO will bring the sport to many fans, new and old."
Image courtesy ASO press release