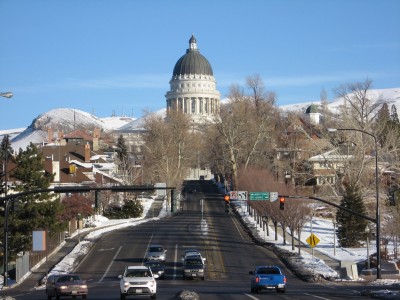 The largest air pollution protest in Utah's history was held on January 25.
Approximately 5,000 people marched to the Utah State Capitol to raise awareness about the air quality in the state and demand a government intervention to solve the problem. Cities in Northern Utah are some of the most in toxic in North America and have remained high on that list for years.
"During high pressure days, especially in the winter, pollutants from the roughly 2 million people living along the Wasatch Front get trapped in the valley, and build until the next storm front," an article by Powder stated. "UPHE [Utah Physicians for a Healthy Environment] estimates that between 1-2,000 people each year die prematurely because of the air quality in Utah."
The protest group included skiers, snowboarders, residents, organizations, and government officials.
Brian Moench of UPHE spoke during the protest.
"The most fundamental right there is is the right to breathe clean air," he said, according to The Salt Lake Tribune. "Air pollution tarnishes our community reputation, it erodes our quality of life and stifles our economy much as it does our lungs."
Salt Lake City Mayor Ralph Becker also spoke and demanded a change.
"We need state-level authority to step in and help us clean up our air," Becker said. "We have talked enough, we have studied enough. Enough is enough. It's time for action."
Check out a video of Moench's speech below.
Image courtesy of Padraic on Wikimedia Commons